Why you're never too old for vaccines
Special to The Dallas Examiner | 4/14/2019, 10:45 p.m.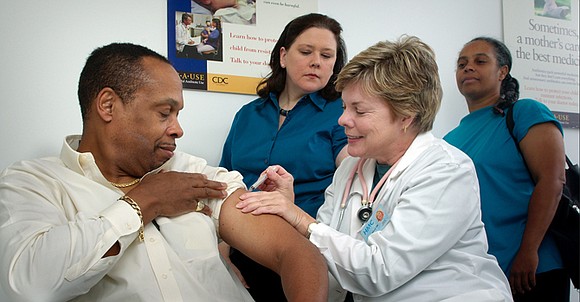 Children aren't the only ones at risk from "childhood" diseases like mumps and measles, according to experts. Recent outbreaks reported nationwide and in Texas have turned the spotlight on the importance of childhood immunizations.
However, primary care physicians and infectious disease specialists at Parkland Health and Hospital System want to remind grown-ups of their need for protection, as well. Every year, thousands of adults become seriously ill and even are hospitalized because of diseases that vaccines can help to prevent.
"The dramatic uptick in the number of cases of measles recently isn't a risk just for kids," said Trish M. Perl, MD, MSc infectious disease specialist at Parkland and professor of infectious diseases at UT Southwestern Medical Center. "Adults are also vulnerable to measles and other childhood diseases if their immunity has declined, if they were inadequately or never vaccinated or if they have conditions that put them at higher risk of complications, such as diabetes or pregnancy."
In addition to ensuring their children stay up-to-date on their vaccinations, Perl urges all adults, age 19 and beyond, to be sure that they are protected.
"Many diseases that are usually milder in young children can be more severe or even life-threatening to older people," Perl said. "No one should take their immunity for granted. Check with your primary care physician to be sure your immunity hasn't waned."
Manisha Raja, lead physician at Parkland's E. Carlyle Smith Jr. Health Center, often reminds her patients about the need for vaccinations.
"The several minutes spent speaking with your doctor about vaccines can prevent future illness from viruses and for some can prevent lifelong complications as well. Too often, adults are at risk of vaccine-preventable illnesses and they don't know it. There are specific ages in your adult life when vaccinations are recommended and protection from vaccines you received as a child can wear off over time. If you're not sure about your immunization status, talk to your doctor," she said.
Vaccines needed by adults vary, depending on many factors, including age, lifestyle and health condition.
Some of the vaccines recommended for adults include:
Flu – Everyone six months and older should get a flu vaccine every year, especially those at highest risk of flu complications, including pregnant women, adults age 65 and older, and people with underlying health conditions.
Tdap – This shot for tetanus, diphtheria and pertussis (whooping cough) provides protection from three diseases that can cause serious illness or death. Everyone should have a booster for tetanus and diphtheria (called a Td) every 10 years or anytime you're exposed to tetanus. Pregnant women should have a Tdap during each pregnancy.
Pneumococcal disease – Infection with this bacteria can lead to pneumonia, meningitis, blood infections and death. Your doctor should recommend this vaccine when you turn 65. Younger individuals with certain chronic health conditions should also consider being vaccinated.
Measles, mumps, rubella – The MMR vaccine protects against all three of these highly contagious diseases. If you were born after 1957, haven't gotten your MMR vaccine and have never had measles, you should consult with your doctor about getting the shot.