Tamela Mann talks about God, marriage, family and Madea
ROBYN H. JIMENEZ | 4/21/2019, noon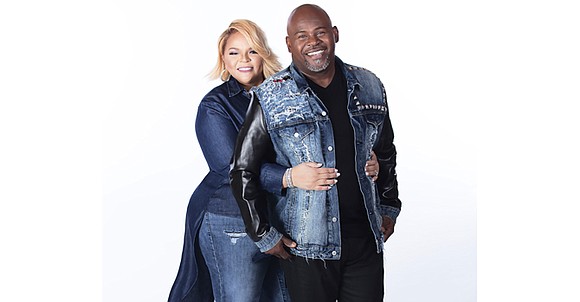 The Dallas Examiner
Known for his ashy-kneed, mixed-matched-clothes-wearing, country-with-a-K character, Leroy S. Brown, who everyone calls Mr. Brown, and his daughter, Cora Jean Simmons, the sweet, honest character with a golden voice, are a well-known gospel singing and Christian comedy duo.
David and Tamela Mann, who play their characters, made their acting debut when Tyler Perry discovered them in 1999. That year, they became part of the cast in Perry's second stage play, I Can Do Bad All By Myself.
The comedy/drama stage play featured the first appearance of Perry's character, Madea, who carries a gun in her purse, demands respect – sometimes by force – and considers the law to be basic suggestions. It was the first of a series of plays that touched on critical issues, such as domestic abuse, molestation, drug abuse and other family secrets that are brought to light.
Brown and Cora immediately became fan favorites and began appearing as main characters in Perry's plays and movies. They've both received NAACP Image Awards for their rolls.
Now, 20 years later – after a series of 10 stage plays and 10 filmed performances – Perry fans have to bid farewell to Madea as Madea's Farewell tours the country. The tour kicked off January in Oakland, California, and recently stopped at The Theatre at Grand Prairie, April 4 through April 7.
During an interview with Tamela, she mentioned that she and the cast were considering trying to convince Perry to keep Madea alive and kicking.
"We're going to start a petition to tell Tyler that he can't kill Medea. ... He can't put her down," she said with a laugh.
However, she acknowledged that Perry might be tired of the time that it takes to be dressed up in the thick layers of costume that transform him into Madea, and then have to perform in it. Yet, the tour experience brought up mixed emotions.
"It's bittersweet of course, because it's actually been over two years since all of us have been on stage together," Tamela explained. "And we've been having such a ball with Cassi Davis – Patton now, she got married – and David and I. It's been so much fun every night. And of course, with them being comedians, it's like something new every night spontaneous with Tyler and David and Cassi. So I'm just bringing it home, singing."
Best known for her leading role as Ella Payne in House of Payne, she has played a small variety of characters, but often appears as Aunt Bam – or Betty Ann Murphy – in Perry's plays.
The tour also introduced new young voices to Perry's wide mix of devoted fans, according to Tamela.
"Our audience has been so diverse. I'm just in amazement how it's crossed over from the beginning when we first started in 1999. It's just amazing. I mean how the characters have grown and we've just been getting so much love from the audiences. It's just a blessing," she said, as she conveyed her enthusiasm about bringing the tour home to Dallas.