Excessive force forum on police training, hiring and shootings
MIKE McGEE | 4/28/2019, noon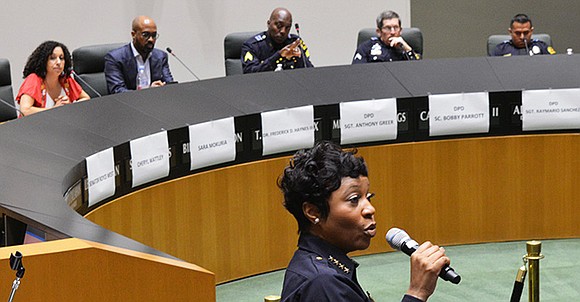 The Dallas Examiner
Nationwide, while fewer Blacks are killed by police than Whites, more die in a percentage that is disproportionately large to the population than of any other race. This prompted a community conversation called "Lethal Force: A Last Resort" that was held in Dallas City Council chambers, April 6.
The meeting brought together members of the Dallas Police Department and community advocates from around the city, as well as drew an engaged audience who raised their collective voices to question authority when it came to use of force by local police.
The program, a collaboration between the Dallas Alumnae Chapter of Delta Sigma Theta Sorority Inc., the Dallas Police Department and Mayor Pro Tem Casey Thomas, featured DPD Chief Rene Hall, who offered her decades of law enforcement experience in addressing questions put forth by panelists and the public.
Panelists included Cheryl Wattley, attorney and UNT Law professor; Sara Mokuria, associate director for leadership initiatives with the Institute for Urban Policy Research at UTD – who also lost her father in an officer-involved shooting incident when she was a child; and Dr. Frederick Haynes III of Friendship West Baptist Church. Police panelists included Sgt. Jennifer Wells, Sgt. Anthony Greer, Senior Cpl. Bobby Parrott and Sgt. Raymario Sanchez.
One issue that panelists questioned was the recruiting criteria used by the DPD for the Dallas Police Basic Training Academy.
Police hire recruits as young as at 19 and a half years of age, and graduates often leave the academy at 20 or 21, according to Parrott and the chief. When panelists wondered about the recruiting of former members of the military, Haynes spoke on his fears about officers who may deal with PTSD.
Hall confirmed that the department recruits from the military due to their life experience but acknowledge that the community and other law enforcement professionals have voiced concerns about such action.
"They come out of combat in some instances," the chief detailed. "To be able to transfer from a combat status to a community engagement status – because law enforcement today is more community engaged, at least under my leadership than it has been in previous years ago – so although we are actively recruiting our military individuals, we make sure they are screened to ensure that they have the deescalation … the community engagement, and that they are prepared to work in a law agency and not in the mindset of a military or a combat [agency]."
In terms of PTSD and officers in an environment of what Haynes called "the underbelly of the ugly side of life, which is traumatic," Hall described the efforts taken by the force to reduce such a factor in those who serve.
"When we talk about our military individuals, every single one of them has to go through a psychological evaluation," she said about police testing.
"As we see the actions of our officers each and every day, we have the ability to refer them to services if we feel the need, but … we also have a website – our association, the department, has services that are ongoing," she continued, in reference to a site that provides help to anonymous officers who feel they need it.