Monday Night Politics: Meet the Candidates Forum features candidates for Dallas City Council District 9, DISD Trustee District 4, and DeSoto Mayor
MATTHEW HIRST | 4/28/2019, noon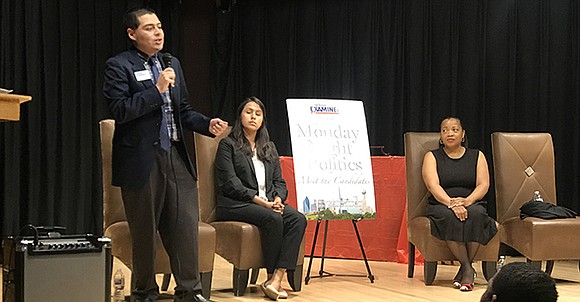 The Dallas Examiner
Monday Night Politics – Meet the Candidates, presented by The Dallas Examiner, hosted its last of six forums at the African American Museum on April 15. The political forum featured candidates running for Dallas City Council District 9, Dallas ISD Board of Trustees District 4, and mayor of DeSoto in the May 4 general election.
Each candidate was given two minutes for opening statements, followed by an open Q&A session where audience members had a chance to ask the candidates questions.
District 9 went first. Candidates in attendance included Sarah Lamb and Erin Moore. Incumbent Council member Mark Clayton did not attend.
Opening statements began with Lamb, a community activist who co-founded the Lakewood Citizens for Responsible Traffic organization.
"A little background on me – I was responsible for bringing about awareness to the Gaston-Garland-Grand Project. … Now, the option that I oppose is the option that's moving forward, but what's really important is the fact that we were able to engage 2,000 people in a public planning process. That's a small number considering that in the last municipal election for District 9, only 4,600 people showed up to vote. And why this is important is now the city of Dallas … for me, my neighbors asked me to step and run and it's just about doing the basics – let's pay the police, let's pave the roads, let's take care of the lake – all of the things that our tax dollars should be funding instead of these vanity projects we've been prioritizing."
Next was Moore, who serves as chief of staff to the Dallas County Commissioner's Court District 1. In this position, he works on city issues, such as public safety, criminal justice, homelessness and housing, and offers expertise in the areas of media relations and art production.
"My top issues are affordable housing and homelessness. I've been working at the county for the last four years … on that issue primarily. It should be everyone's issue, even if you're in a stabilized neighborhood. … My second top issue is transportation, which should be every city council person's top issue. … Primarily, I want to see our roads put into the general budget, so that they're not paid for with bonds and debt. I also want to do a complete overhaul of DART. ... And then the third thing is our environment. Somebody said, 'That's not my issue.' But it is. The air quality in Dallas is bad for everyone. … Oh, and then the last thing is police and fire. We have to get our police and fire up to full strength."
The forum then opened up for questions from the crowd. Among topics covered were curfew, panhandling, collaborating financially with Dallas ISD, dividing the city budget more equitably, public-private partnerships and Visit Dallas.
Question: How will you make the city budget more equitable?
Moore: Most of the budget is already made by the time it gets to the council … so we're fighting over 15% of the budget essentially and that usually just, for equality, is divided up into 14. Well, equity is not equality, and I think some districts have more need than other districts.