Political team leads bipartisan, bicameral coalition to bridge gap in minority health
Special to The Dallas Examiner | 4/28/2019, noon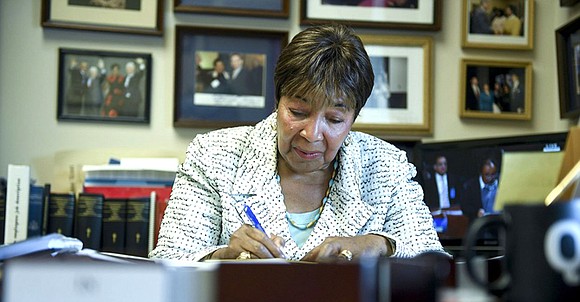 Special to The Dallas Examiner
WASHINGTON – U.S. Sens. Ben Cardin, D-Md., and Tim Scott, R-S.C., along with Congresswoman Eddie Bernice Johnson, Texas-30, and Congressman J. Luis Correa, Calif.-46, are leading a bipartisan, bicameral coalition introducing a resolution to promote minority health awareness and to bring attention to the discrepancies in health care faced by minority populations including American Indians, Alaska Natives, African Americans, Hispanics, Native Hawaiians, Asian Americans and Pacific Islanders.
These groups have historically suffered from high rates of chronic disease and inadequate access to health care. Without programs that specifically address health disparities and increase the numbers of health professionals in underserved areas, these inequities will not change.
"Addressing the inequities in health care access and outcomes must be one of our highest priorities as we explore ways improve our health care system," Cardin explained. "We cannot accept the status quo in which African American children have a 60% higher prevalence of asthma than White children, or one where Native Americans and Alaska Natives are more than twice as likely to have diabetes as White individuals. It is simply unjust that different racial groups face such starkly different health outcomes."
Cardin's amendment to the Affordable Care Act established six Offices of Minority Health throughout the U.S. Department of Health and Human Services and elevated the National Institute on Minority Health and Health Disparities, which has been charged with leading "scientific research to improve minority health and reduce health disparities." He has also authored legislation to address maternal mortality rates in the United States and authored legislation to study barriers traditionally underrepresented groups face when trying to participate in federally funded clinical cancer trials.
"When all of America is healthy, we are a stronger nation. Time and time again, we find that minorities historically have higher rates of chronic disease and lower access to quality care," Scott said. "As we continue with conversations regarding our health care system, it's imperative that we advocate for legislation that not only lowers costs but increases access for all people."
Many communities of different socioeconomic groups across the nation are facing inequities in health care, making it imperative to address the disparities within the health care system, according to Correa, who said the resolution would help close the gap in health care.
Other examples of health disparities include:

• African American women were as likely to have been diagnosed with breast cancer as non-Hispanic White women, but African American women were almost 41% more likely to die from breast cancer than non-Hispanic White women between 2011 and 2015.
• African American women lose their lives to cervical cancer more than twice the rate of non-Hispanic White women.
• African American men are 60% more likely to die from a stroke than non-Hispanic White men.
• Hispanics have higher rates of end-stage renal disease caused by diabetes, and are 30% more likely to die of diabetes, than non-Hispanic Whites.
• Native Hawaiians and Pacific Islanders are 30% more likely to be diagnosed with cancer than non-Hispanic Whites.