Controversy behind Dr. King holiday
MIKE McGEE | 2/4/2019, 11:08 a.m.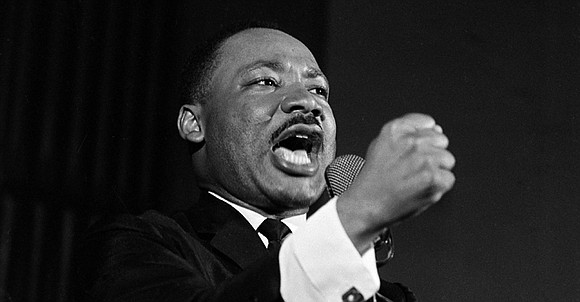 The Dallas Examiner
Dr. Martin Luther King Jr. led a national Civil Rights Movement for equality and justice in housing, education and employment, from 1955 to 1968. Yet, it took a 15-year effort to commemorate his birthday at a national level.
To bring this discussion to the forefront, "The Controversial History of MLK Day" was held at the Martin Luther King Jr. Library, Jan. 14.
"I made the choice to do this particular topic because it intrigued me that it did take so long," remarked the presenter, Shannon Adams, librarian manager at the center. "One thing that I experienced just through research, and life, is that the biggest obstacle … is because of fear – fear of the unknown. And I do believe that maybe it was fear that maybe provoked the pushback. But I couldn't be certain because, just given my research, I wasn't able to locate any of the reasons behind it."
Those attending the program suggested racism and mistrust of new ideas were at the core of the political foot-dragging.
The holiday, observed on the third Monday in January, was not passed until Nov. 2, 1983, around the time Adams was four years old, even though King had reached national prominence for his nonviolent resistance in support of racial and economic equality before his murder in 1968.
His wife, Coretta Scott King, had been vocal about the holiday since the death of her husband, and it was in 1979 that Rep. John Conyers, D-Mich., and Sen. Edward Brooke, R-Mass., introduced into Congress a bill to establish King's birthday as a national holiday.
Even then, resistance to the idea remained.
"We are the Martin Luther King Library, and so we take pride in knowing a little bit of history about Martin Luther King," Adams said with a chuckle as she mentioned her research took approximately six months.
Notably, the president who was against the holiday originally was also the president who eventually signed the King bill into law. Ronald Reagan asked at one point during his presidency "…where will it end?" at the suggestion of a day recognizing the reverend.
He was answered by Eddie Murphy during a Weekend Update segment on Saturday Night Live with the question, "What the hell, Ron – where will it begin?"
Adams proposed that once fear – even with racism as its basis, unintentional or otherwise – was addressed, people are more willing to budge on new or more progressive ideas. The more difficult task involves those who make the conscious choice to refuse to move forward.
"How does anyone deal with that?" she pondered. "I just take it with a grain of salt because one thing I've learned in life is that you can't change anyone's mind. We can try to persuade people with facts and truth, but in the end if they just don't want to make a change they're not going to make the change.
"And I would hope that one day – like Martin Luther King said – one day we would see a change because, like Reagan was finally pushed to sign off on it, maybe one day if enough people stand up then it will be for change."