Controversy behind Dr. King holiday
MIKE McGEE | 2/4/2019, 11:08 a.m.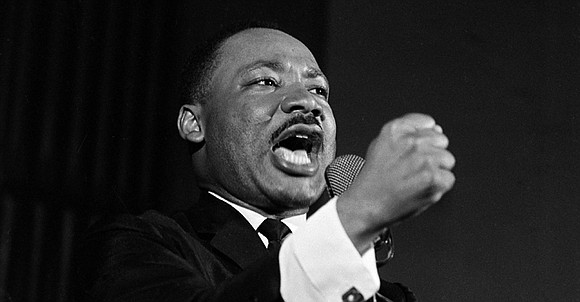 Although Reagan claimed that cost was one of the issues he had in standing against a King holiday, he eventually signed the bill introduced by Rep. Katie Hall, D-Ind., which also established the Martin Luther King Jr. Federal Holiday Commission. The King holiday became the 10th and most recent federal holiday, as well as the first federal holiday recognizing a Black American.
One attendee of the presentation, IT professional Jeremy Lewis, pointed out that some states, such as Mississippi, continue to observe Robert E. Lee's birthday the same day as the King holiday to cover both leaders, rather than add the MLK day and end the Lee tradition.

He mentioned that, at 32, he wanted to learn more about how the holiday was established.
"I think it speaks to the progress we have made in this country, as well as the work that still needs to be done. The fact that it took so long and that there was pushback and still continues to be pushback speaks to how certain members of society are unwilling to embrace diversity and civil rights," he confessed in regard to the mixed feelings the embattled holiday's past engendered within him.
It was for residents like Lewis that Adams especially created her presentation, admitting that the less that past movements or historical events are recalled, the more likely they will be forgotten, which creates further consequences.
"… The more they're not talked about, the more that they become one of those things that aren't getting discussed among the younger generation, therefore they don't see the significance," she said. "They don't see the importance to vote, so, from the first part, I wanted to hear from the people of today their opinions of MLK Day and why it's important and its significance."
Another attendee, Christopher Catchings, 31, offered his thoughts on the noteworthiness of the holiday.
"I was more curious to know if other people were more putting into practice what was really important to me," voiced Catchings, also an IT professional.
"Coming to a celebration of MLK, I expected to be around like-minded individuals who wanted to celebrate his legacy, as well as wanting to embrace the change that's happening in the country," he said.
However, he conceded that he felt let down by the attention the holiday presently receives.
"I'm honestly pessimistic, but that's only because I do think more needs to be done," he explained. "I personally want to be more active in civil rights because of the lack of diversity and participation sometimes that I'm seeing at events. If we're hosting MLK events, I want to see everyone there reflected, not just other African Americans, because civil rights leads to everyone."
Catchings cited less of a pushback of years past and more of a general apathy towards the King holiday currently, celebrating it is a national holiday rather than simply an African American holiday.
"Absolutely," he affirmed. "It should be as equally important to everyone, including foreign-born American citizens."