Longest government shutdown in history has ended … for now
ERICA WERNER, JOHN WAGNER and MIKE DEBONIS | 2/4/2019, 11:12 a.m.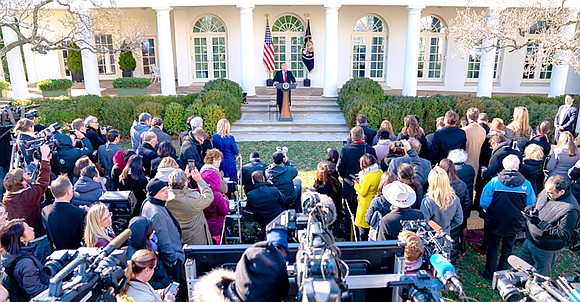 The Washington Post
WASHINGTON (Texas Tribune) – President Donald Trump on Friday agreed to temporarily reopen the federal government without getting any new money for his U.S.-Mexico border wall, retreating from the central promise of his presidency, for now, in the face of intense public anger.
The president's humbling concession to the new realities of divided government brought the nation's longest government shutdown to an end on its 35th day. It was a major victory for Speaker Nancy Pelosi, D-Calif., who took charge of a new House Democratic majority just three weeks ago and kept her large caucus unified throughout the standoff.
"Our diversity is our strength," Pelosi told reporters after the agreement was reached. "But our unity is our power. And that is what maybe the president underestimated."
Trump announced the deal in an early afternoon speech in the Rose Garden. By evening the Senate, and then the House, had passed the plan by voice vote, and both chambers adjourned.
Trump himself signed the plan into law later Friday night, bringing an end to weeks of anxiety for 800,000 federal workers who will soon receive back pay after missing two consecutive paychecks. The shutdown had also threatened important government functions, impeding Food and Drug Administration safety inspections and the ability of the Internal Revenue Service to process tax refunds, and – in a final sign that it could continue no longer – causing delays Friday at major East Coast airports as unpaid air traffic controllers failed to report to work.
The deal reopens the government through Feb. 15, while also creating a bipartisan, bicameral committee charged with negotiating an agreement on border security as part of a new spending bill for the Homeland Security Department.
Trump sought to cast the creation of the congressional committee as a win, and even in his moment of defeat did not let up on his demands for a southern border wall that he had repeatedly said Mexico would finance. Renewing his threats, the president insisted Congress must give him wall funding or risk another government shutdown in three weeks – or a declaration of a national emergency that would allow him to circumvent Congress and use the military to build the wall.
"Let me be very clear: We really have no choice but to build a powerful wall or steel barrier. If we don't get a fair deal from Congress, the government will either shut down on Feb. 15, again, or I will use the powers afforded to me under the laws and the Constitution of the United States to address this emergency," Trump said at the conclusion of his lengthy remarks in the Rose Garden, during which he discussed the wall in familiar terms of crime, drugs and national security.
Democrats expressed willingness to negotiate with the president on border security issues they agree on – such as the need for improved technology – but said, as they have from the start, that there will be no money for Trump's wall. He had been insisting on an initial payment of $5.7 billion.