Days after heated meeting, Texas Senate's Property Tax Committee passes rollback rate bill
Brandon Formby, Cassandra Pollock and Edgar Walters | 2/21/2019, 10:10 a.m.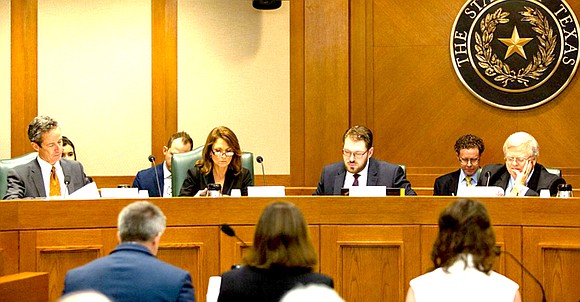 The Texas Tribune
The Texas Senate's new Property Tax Committee on Monday moved with breakneck speed to advance a controversial proposal on one of Republican Gov. Greg Abbott's top legislative priorities: slowing property tax growth.
In a 4-0 vote, the committee passed an amended version of Senate Bill 2, a complex bill that would further limit the amount local governments like cities, counties, school districts and special districts can spend without voters stepping in. All four Republicans on the panel voted for the bill, while Democrat Juan "Chuy" Hinojosa was present but didn't vote.
SB 2 would require an election when local governments want to collect an additional 2.5 percent or more in tax revenues from existing properties, regardless of the total taxable values assigned to properties. The cap limits the amount of total revenue a local government can rake in without voter approval, even if its tax rate is not increased.
Disagreement over such an election trigger led 2017's regular and special legislative sessions to end in stalemates, as the Senate and House could not agree on how high to make the threshold. And at the time, both proposed triggers were higher than the 2.5 percent threshold proposed this year.
But the politics surrounding the issue have changed. Abbott and the leaders of each chamber – including new House Speaker Dennis Bonnen – announced last month that they were unified in their goal of slowing the increase of Texans' property tax bills and setting the election threshold at 2.5 percent of revenue growth.
And state Sen. Paul Bettencourt, who chairs the Property Tax Committee, told The Texas Tribune last week that it was former Republican Speaker Joe Straus who successfully prevented the lower chamber of passing an election trigger below 6 percent.
"There's no question," the Houston Republican said.
Still, lawmakers of both parties and each chamber – including Bettencourt – admit the 2.5 percent election trigger could be raised as the bill works through the process. In an interview after Monday's vote, Bettencourt stopped short of saying he's adamant about the threshold staying at that point. He did say that 6 percent, where the House left the trigger in 2017's last impasse, is too high to help Texans slow property tax growth.
"Clearly, the lower it is, the better," he said Monday.
But he said he expected to have enough support from his colleagues in the upper chamber to bring the new version of the bill to the full floor for debate.
"I'm confident I'm going to do my usual job of working the floor," he said.
While language in the current version of the bill would apply to school districts – and could force the state to spend more of its own money on public education – Senate officials and staffers said such provisions are just a placeholder until the Legislature tackles school finance reform with separate legislation.
A fiscal note from the Legislative Budget Board estimates that the 2.5 percent threshold would cause cities, counties and special districts across Texas to forgo billions in potential revenue in coming years – but that forecast assumes that no rollback elections would be approved by voters. It also relies on property tax estimates "extrapolated in line with the outlook for growth" in appraised property values.