Days after heated meeting, Texas Senate's Property Tax Committee passes rollback rate bill
Brandon Formby, Cassandra Pollock and Edgar Walters | 2/21/2019, 10:10 a.m.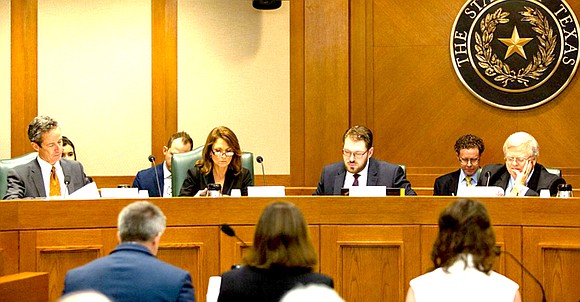 Limited budget growth is driving much of the pushback from local leaders. The committee's swift approval Monday – after more than a dozen amendments were adopted – came despite the opposition of city and county leaders from across Texas, who faced a tough audience of conservative lawmakers at the heated committee hearing last week.
When local leaders at that hearing restated familiar fears that SB 2 would constrain city and county budgets so much that police and fire response times would increase and potholes would go unfilled, Bettencourt repeatedly brushed aside their arguments.
Dallas Chief Financial Officer Elizabeth Reich said the 2.5 percent automatic election threshold could prevent her city from hiring back first responders it lost during a pension crisis two years ago.
"We view this as a threat to critical city services," she said.
But Bettencourt repeatedly interrupted her and other local officials. He said he wouldn't allow officials to spread such "misinformation" at a public hearing.
"It's political hyperbole, and I'm not going to stand for it," he said at the hearing.
On Monday, he said one of the adopted committee amendments would prohibit local governments from reducing first responders' pay just because legislation with a new tax rate rollback trigger becomes law.
Bettencourt argued that the bill still allows for revenue increases – and pointed out that taxes on new properties wouldn't count toward the election trigger. He said that means local governments could still bring in more money and wouldn't have to cut existing personnel or services. He has also frequently said that if government agencies want more money, they can make their cases to voters the way they do for bond elections.
"Not all are going to pass, but not all are going to fail either," he told the Tribune last week.
The next steps
Current state law, set during a period of high inflation in the early 1980s, allows local governments to collect an additional 8 percent in revenue on existing properties before involving voters. And even then, voters must collect enough signatures to force an election.
But as inflation has fallen in the decades since – and taxable values have increased thanks to booming property values – local governments have wide leeway in collecting millions of additional revenue without voter input.
"People have taken advantage of that, and they haven't lowered their rates," Bettencourt said last week.
The initial version of SB 2 exempted small taxing units (local governments whose potential property and sales tax collections are $15 million or less) from the new, lower trigger. Another committee amendment adopted Monday would allow voters who live in such jurisdictions to decide in an election next year whether they want that exemption to stand.
"This was the most popular request we got from the public," Bettencourt said.
A successful amendment from state Sen. Kelly Hancock, R-North Richland Hills, would change the term "rollback tax rate" to "voter-approved tax rate." He and other senators said that would make the trigger's point more clear to Texans.