A demand for a quality and equitable education, Part II: A district's changing face
ALEXA URA and ALIYYA SWABY | 2/21/2019, 10:07 a.m.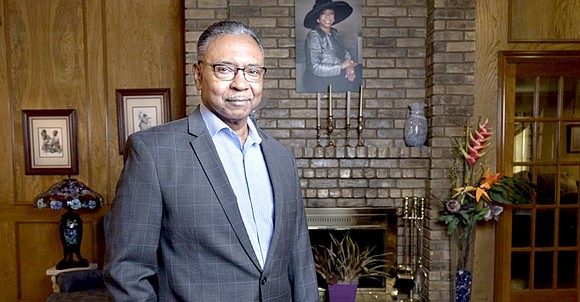 But for Tyson, the move to a single-member system would do more than add diversity to an all-White board. He's hoping his lawsuit will give people of color more of a say in decision-making and ultimately help close a persistent achievement gap between students of color and their White peers under the "perpetually monolithic board."
Tyson alleges that the board "plainly and consistently prioritizes" a small cluster of elementary schools that enroll predominantly affluent and White students "at the expense of the rest of the community" while denying "equal voting opportunity to most of the parents of children enrolled in RISD schools."
Tyson's lawyers point to the academic gulf between the predominantly White and affluent students at Prairie Creek Elementary and students at Carolyn G. Bukhair Elementary who are mostly Hispanic and low-income and require some form of language assistance.
At Prairie Creek, nestled in a quiet neighborhood surrounded by expensive homes, about 84 percent of students were considered to be at grade level in two or more subjects in 2016-17, making it the district's highest-performing school by that measure, according to the lawsuit. Meanwhile, only 21 percent of students met the same standard at Bukhair, which is surrounded by apartment buildings on a high-traffic road.
"The story of RISD is a tale of two school districts where a greater than 60 percentage point achievement gap exists between campuses at opposite ends of the academic spectrum," Tyson's lawyers wrote. "Such disparity between schools in the same district is not inevitable. Conscious decisions, made by elected officials, are needed to improve conditions across the vast majority of RISD."
Targeting a 'relic of the district's segregated past'
Tyson's challenge to the at-large system is as much about Richardson ISD's future as it is about its past.
His lawyers argue the board's decision to keep a "discriminatory" voting system is a "relic of the district's segregated past," part of a long history of actions that have harmed students of color.
In fact, the disparities among the district's schools can be traced back decades, when a federal judge in 1970 ordered Richardson ISD and hundreds of others across the state to educate Black and White students together, or risk losing state and federal funding.
Richardson ISD vowed to integrate its schools and was required to file regular reports on the racial composition of students and staff, so the courts could track its progress. But five years into the court order, Hamilton Park Elementary had never enrolled a White student.
The school board argued the segregation was unavoidable – and therefore not discriminatory – because the school was built in a neighborhood designed to house the Black community.
But the U.S. Department of Justice argued – and a federal appeals court unanimously agreed – that Hamilton Park Elementary had become the all-Black school for students living throughout the district, not just in the neighborhood. All but one of the district's 25 other elementary schools remained predominantly White.
"It was employed as a means to perpetrate the segregated character of a school system theretofore kept segregated by other means," a panel of judges ruled in 1975. That year, district leaders began recruiting White students from all over the district to attend the school and working to ensure every classroom had at most 50 percent Black students.