Becoming: An Intimate Conversation with Michelle Obama
MIKE McGEE | 1/6/2019, 12:45 p.m.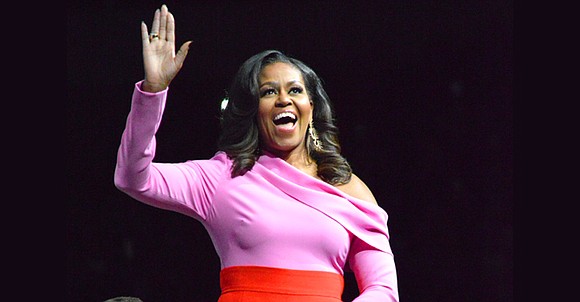 The Dallas Examiner
"My husband is making his own adjustments to life after the White House, catching his own breath," Michelle Obama penned in the forward of her new memoir, Becoming. "And here I am, in this new place, with a lot I want to say."
The former first lady – and first African American woman in that position – was at the American Airlines Center, Dec. 17, for Becoming: An Intimate Conversation with Michelle Obama, where she actively engaged a large audience with what she wanted to say.
That included reminding listeners and readers that before she was the wife of a two-term U.S. president, she was Michelle Robinson, an individual with her own goals, occupations and personality.
Her book – covering such eras of her life as her childhood on the South Side of Chicago, to her earning degrees from Princeton and Harvard, to her post-White House years – presented an accomplished individual who is more layered than just Barack's wife, which she claimed she is honored to be but did not want to be solely known for.
Former senior advisor to President Barack Obama, Valerie Jarrett, moderated the event. In 1991, Jarrett, who was deputy chief of staff for Mayor Richard Daley, hired Michelle from a private law firm. At that time, Michelle and Barack were engaged to be married.
During the program, one aspect to personal growth that she dwelt on was the male role models in her life during her childhood.
Michelle urged women in the audience to harken back to the male role models they knew who are worthy of praise, as she voiced that female role models are so often highlighted in the lives of girls that good men may be inadvertently devalued.
She devoted time to the subject by praising her brother, Craig, and recognizing the effort of her father, Fraser C. Robinson III, in raising his children to be respectable citizens, despite suffering from multiple sclerosis.
"He treated us as equals," she said of her father and his relationship with both of his children. She recounted a time when her brother developed an interest in boxing, and remembered, "He got his gloves, and I got mine."
Known for her phrase, "When they go low, we go high," Michelle also pondered the negativity she faced from various camps, both as a Black student and as the wife of the first Black president, and confessed about those whom she described as naysayers and doubters, "They don't go away."
"I'm filling up the stadiums, but just today I read an article about somebody still calling my senior thesis 'incompetent.' An article today, still hatin'," she revealed as she reached out to younger members of the crowd.
"There will always be somebody telling you what you can't do because there are people out here who want some folks to think small. They want you to set your bar low. Because they don't think you're worthy, or they need you to think small so that they can feel good."