Becoming: An Intimate Conversation with Michelle Obama
MIKE McGEE | 1/6/2019, 12:45 p.m.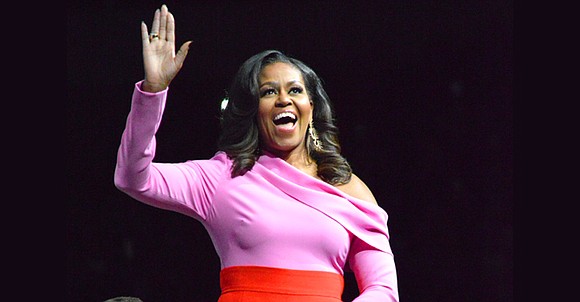 The disparagement she faces even now reminded her of a battle of wills she had with a college counselor who did not think she was cut out for an Ivy League education despite her excellent grades.
"So you're going to have to make a choice as a young person again and again and again to choose to listen to the people who lift you up," she said, addressing the youth in the audience. "And that's what I did. I worked around my guidance counselor. Instead, I went to the teachers who knew me, I went to the people who had seen me, and I wrote my application and I talked about my reach."
"I said, yes, maybe I am reaching with Princeton, but doggone it, reaching is all I know. I am not networked. I am not wealthy. I don't know much, but my story is powerful – let me tell you about my dad and how he worked in pride and in value."
"I owned all of my story as a way to say, 'I'll show you, but not only will I get into Princeton, but I will get in being fully me."
Her publisher, Penguin Random House, promoted her book tour with flattering prose which read in part, "… She helped create the most welcoming and inclusive White House in history, while also establishing herself as a powerful advocate for women and girls in the U.S. and around the world, dramatically changing the ways that families pursue healthier and more active lives, and standing with her husband as he led America through some of its most harrowing moments."
Michelle's theme of the evening was not only that none of it was easy, but that hiding the struggles was dishonest. If the end result is worth the work put in, however, perseverance rather than surrender is always the better choice.
In one instance, she brought up the difficulty of family, including her attempts to get pregnant, and a miscarriage she endured in her mid-30s.
"That was my journey, and that's what the book is about, was my journey, and the notion that I leave out that important piece of it, it would be false. It wouldn't be a true story," she conceded. "The other thing is that I wished that somebody had talked to me about it when I was going through it."
Michelle recalled that before her first child was born she had a miscarriage and underwent infertility treatments. After braving multiple attempts to get pregnant and feeling isolated, she began to discuss the process with other women around her. She said she noticed that as she began sharing her own intimate story, other women would share their similar stories. During these conversations, she realized she wasn't really alone.
She also left the crowd with some witty couples advice in the form of perspective as she imparted wisdom on the relationship between herself and the president and the marriage counseling they underwent.
"No one ever tells young couples that it's hard; it's hard. It's hard for everyone," she exclaimed to applause. "I love my husband. I respect my husband. My husband is a bad dude. I am proud of him. He is stronger than he's ever been, but there were times that I wanted to push him out a window."
The former first lady's confession was followed by rising laughter.
"I didn't want him hurt, so it wouldn't be a high window – a first floor window," she added.
Throughout the levity expressed by the audience, the former first lady underscored that ups and downs within a marriage were normal, and not worth giving up the relationship over.
"I think young people, they tend to look at us as perfect and then when they hit those bumps, they quit. And the bumps, oh lord, the bumps are there," she admitted.
"I say, you know, if you're blessed enough to be healthy and married for 50 years, which is my goal, if you have 10 bad years, that's pretty good."