Dr. Martin Luther King and the yearlong Montgomery Bus Boycott
CHARLENE CROWELL | 1/21/2019, 1:19 p.m.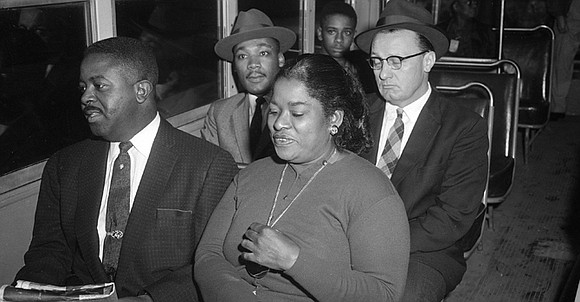 Special to The Dallas Examiner
Although America's Declaration of Independence and Constitution are premised on the principles of democracy, the historical treatment of America's citizens of color is replete with racial dichotomies.
Even today, the vestiges of slavery, Civil War, Reconstruction and segregationist Jim Crow laws to the more recent federal laws for voting rights, fair housing and community reinvestment have yet to assure succeeding generations of African Americans all of the freedoms afforded a citizen of the United States.
As our nation again marks an annual tribute to Dr. Martin Luther King Jr., now is a timely moment to recall how a youthful but principled leader emerged at a time when this nation was directly challenged to honor its promises of citizenship. Neither age nor long-standing community roots were required to effect meaningful and lasting change.
It was at the young age of 25 that King began what would become his first successful and peaceful protest: the yearlong Montgomery Bus Boycott.
In the fall of 1954, King began his service as pastor to Dexter Avenue Baptist Church. Shortly after his arrival in Montgomery, he met a ministerial colleague who would become his lifelong deputy – Rev. Ralph Abernathy.
Explaining the notable differences in Montgomery's Black churches, Abernathy advised King, "At my church, you may talk about Jesus. You may preach about Jesus from the pulpit. But at Dexter, they would prefer that you not mention his name."
Despite this advice, King pursued innovative ideas for his pastorate. During his first sermon, he presented two dozen written recommendations that would reorganize the church's committees and bank accounts. The list also included a requirement for every member of the congregation to be a registered voter. In 1954, less than 5 percent of Alabama Negroes were registered to vote.
With his recommendations accepted, the church moved forward with the formal installation services that took place on Oct. 31, 1954.
A few months later on March 2, 1955, city police arrested Claudette Colvin, a student at Montgomery's Booker T. Washington High School, for refusing to give up a bus seat to a White passenger.
Later that year, another Black female, Mary Louise Smith, was also arrested for the same offense. Neither of these instances prompted the Montgomery NAACP to action or protest. The local chapter seemed to feel that the backgrounds of Colvin and Smith would not withstand the scrutiny of White prosecutors.
In those days in Alabama, the first 10 seats on Montgomery buses were always reserved for Whites. If the White section filled up, the colored section was made smaller.
But on Dec. 1, 1955, Rosa Parks, a local seamstress and secretary of the Montgomery NAACP, decided to ride home on the Cleveland Avenue bus from her job at a downtown Montgomery department store. When the White section filled up, the bus driver asked four Blacks to move. Three other Black passengers complied with the order. Parks refused, and the driver called the police.
Twelve years earlier, the same driver on another bus had evicted Parks.