Dr. Martin Luther King and the yearlong Montgomery Bus Boycott
CHARLENE CROWELL | 1/21/2019, 1:19 p.m.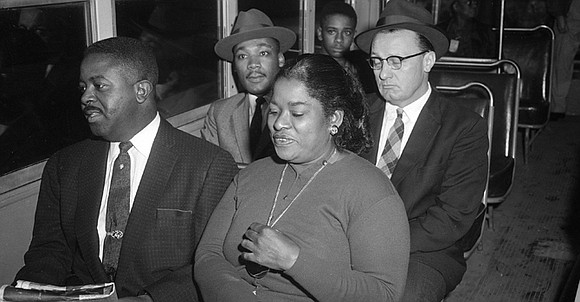 "I didn't consider myself breaking any segregation laws. I just felt resigned to give what I could to protest against the way I was being treated," Parks said, recalling the events of the day.
The one phone call she was allowed from jail led to the response of another local NAACP official, E. D. Nixon. A Pullman porter by trade, Nixon aided the release of Parks on a $100 bond. Her trial was set for Dec. 5, 1955.
The following day, King received a phone call from Nixon. As he recounted the events of the previous evening, Nixon told King, "We have taken this thing too long already. We got to boycott the buses, make it clear to the White folks that we ain't taking this type of treatment any longer."
King agreed and offered Dexter Avenue as a meeting place for community leaders. By consensus, they would decide the best course of action. Almost 50 ministers and civic leaders attended the meeting. They agreed that the bus boycott would begin on the following Monday, the same day as Parks' trial. Some 52,000 flyers were printed and distributed to announce the boycott.
The now famous Montgomery boycott actually borrowed some of its strategy from an earlier, but little-known, effort.
In 1953, Rev. T. J. Jemison, then secretary of the National Baptist Convention, organized a bus boycott in Baton Rouge, Louisiana. After local Louisiana officials banned the use of cut-rate and unlicensed taxi service, Jemison organized a car pool to provide alternative transportation. That effort lasted only two weeks.
On Dec. 5, 1955, King, the newly appointed president of the Montgomery Improvement Association, delivered his first speech on the bus boycott. An overflow crowd of thousands at Holt Street Baptist spilled out of the church and into the streets. Outdoor loudspeakers were set up to enable all in attendance to hear the first address of the young and emerging leader.
With little time to prepare his remarks, King's spellbinding oratory and Baptist cadence captured the spirit of an angry Montgomery Black community.
"There comes a time my friends, when people get tired of being thrown across the abyss of humiliation, where they experience the bleakness of nagging despair. There comes a time when people get tired of being pushed out of the glittering sunlight of life's July, and left standing amidst the piercing chill of an Alpine November," he declared.
"I want it to be known that we're going to work with grim and bold determination – to gain justice on the buses in this city. And, we are not wrong. We are not wrong in what we are doing. If we are wrong – the Supreme Court of this nation is wrong. If we are wrong – God Almighty is wrong. And, we are determined here in Montgomery to work and fight until justice rolls down like water and righteousness like a mighty stream."
A series of negotiating sessions began that month as well. The protesters had three specific goals: