At least 35,000 Texans with federal jobs are unpaid
ABBY LIVINGSTON and DARLA CAMERON | 1/21/2019, 1:36 p.m.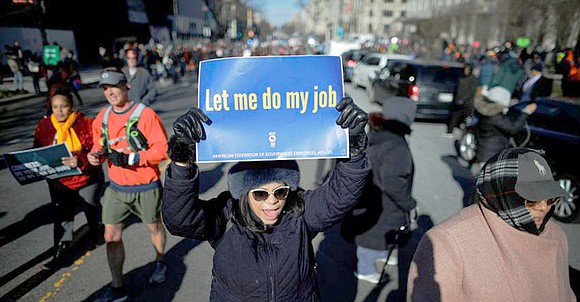 WASHINGTON (The Texas Tribune) – The Lyndon B. Johnson National Historical Park's website boasts a quote from the president the Central Texas park is named for: "All the world is welcome here." But thanks to a partial federal shutdown, the park is closed to the public.
It's a fittingly disjointed message for a disjointed moment.
From Johnson City to Houston to practically everywhere else in the state, the impact of this partial federal shutdown is being felt – and raising questions of when federal parks will reopen, when affected federal employees will be paid and when Americans can rely on government services.
President Donald Trump has refused to sign a congressional spending bill unless the legislative branch appropriates $5 billion for a U.S.-Mexico border wall. Congressional Democrats have pushed back, saying that a border wall is nonnegotiable.
Stuck in the middle are hundreds of thousands of Americans – and at least 35,000 Texans on the federal payroll – who will not receive their paychecks Friday. These are NASA employees in Houston; park rangers in Big Bend; Bureau of Printing and Engraving employees in Fort Worth; officials responsible for keeping Texas' airports, border and ports of entry secure; and other federal employees who work for more than a dozen cabinet departments and agencies.
As Trump and congressional Democrats continue their standoff, economists and members of Congress brace for financial blows back home. One of the hardest-hit regions is Houston, home of the Johnson Space Center, where NASA employees will not receive paychecks.
"It's potent," said U.S. Rep. Pete Olson, a Republican who represents nearby Sugar Land. "The whole region depends on the space center. I grew up there. That's their whole industry: cleaners, the restaurants, movie theaters."
It's widely expected those employees will eventually be paid – but only after lawmakers and the president eventually resolve the dispute. Three Texans – Olson and Democratic U.S. Reps. Al Green of Houston and Veronica Escobar of El Paso – signed on to legislation that would ensure those paychecks would be restored when funding is re-established.
But Olson is also concerned about the toll that prolonged financial uncertainty will take on the American astronauts who are currently aboard the International Space Station and NASA employees who are working without pay to ensure their safety.
"If this goes on for a long time, we're going to have morale issues," he worried.
Economist Parker Harvey, whose firm Workforce Solutions provides Houston-area employment services, said small businesses that rely on federal government contracts will also be affected.
"Delays in payment for those services have the potential to impact them in a very negative way the longer the shutdown lasts," Harvey said.
And the congressman who represents the space center worries NASA contractors may never be paid. U.S. Rep. Brian Babin, R-Woodville, partnered with the Florida representative of the Kennedy Space Center to send a letter to the members on the committee that makes spending decisions to keep those vendors in mind.
"We're asking the appropriators to make sure these people get paid," he said.