Political experts: Suing the government not an option to end shutdown
STACY M. BROWN | 1/28/2019, 2:42 p.m.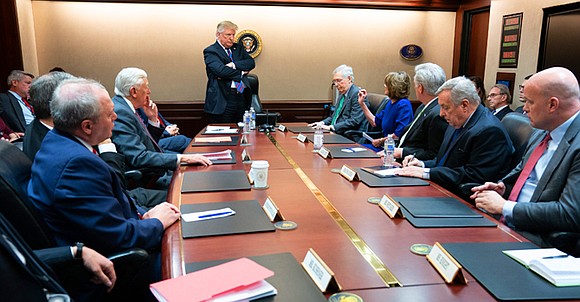 (NNPA) – As the government shutdown enters an unprecedented fifth week, some are calling for drastic measures to end the stalemate that has 800,000 government employees either working without pay or altogether furloughed and unable to put food on the table.
In a recent column, Charles Ellison, a political strategist and host of the radio program Reality Check on WURD Radio, said congressional Republicans could help reopen the government by simply corralling enough votes in both the House and Senate to arrive at the two-thirds majority needed to override any presidential veto of the federal budget.
But congressional Republicans – led by Senate Majority Leader Mitch McConnell, R-Ky. – refuse to do that. McConnell claims that not only is he awaiting a deal between congressional Democrats and the White House, but he also needs approval from the president before taking action.
This leaves many asking three questions:
Why haven't congressional Democrats sued congressional Republicans?

Could states do that instead?

Why are members of Congress still getting paid?
"I don't know if suing will get us anywhere in any type of manner," said Delaware County Democratic Party Chair Colleen Guiney.
"I'm not sure if it's an option but Democrats in Congress have seven bills to reopen the government, but McConnell is refusing to consider any of the bills. The Senate should respect the will of the people," Guiney said.
U.S. Rep. Mary Gay Scanlon, D-Pa., said she and other Democrats have worked tirelessly to find and offer solutions to reopen the government as thousands of federal employees have gone without pay and are struggling to pay their bills and feed their families.
"What I fear is this administration and our Republican colleagues in the Senate have forgotten is that this is the people's house," Scanlon said. "We have an obligation to work for them. Refusing to uphold that commitment, that promise, is a slap in the face to the American people."
Former Pennsylvania Republican Rep. Alex Charlton said his guess is that if congressional Democrats did sue congressional Republicans it would be the "nuclear option."
"It would significantly delay any progress towards an actual resolution," he said.
Unlike the federal government, a state-level government shutdown in Pennsylvania is unlikely because a court decision mandates that state employees must be paid as long as the state is still collecting tax revenue, Charlton added.
"The Republican legislature has been diligent in ensuring that the state's expenses do not outpace its revenue. Any increase beyond that would require tax increases, which the citizens of Pennsylvania do not want," he said.
As to why federal lawmakers continue to draw a paycheck despite the shutdown, Charlton said the salaries of U.S. senators and representatives are paid by the treasury and are set by Congress itself.
"Members of Congress are paid under legislation that is separate from the appropriations bill that funds most of the government. The tax dollars that members of Congress are paid with do not come from the same budget used to pay other federal employees," Charlton said.