Dallas City Council briefing on new budgets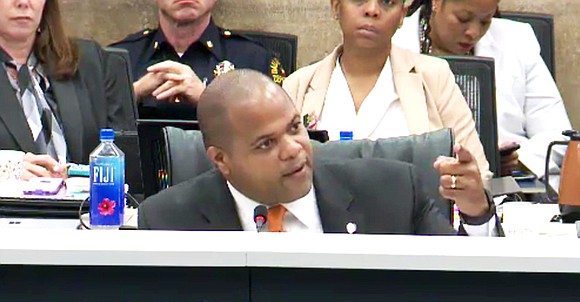 Exceeding the 3.5% cap is allowed, but requires an election on the November uniform election date.
Also, other legislative changes include HB1525 and HB2153. Starting on Oct. 1, out-of-state internet retailers with at least $500,000 in Texas sales in the prior 12 months will be required to collect and remit local sales and use taxes.
Furthermore, another legislative change that is determined to impact the city's general fund revenue is legislative change SB1152. In this legislation, companies that provide both telecommunications and cable TV services are exempt from paying the lesser of telecommunications right-of-way fees and cable TV franchise fees .
All cable TV providers currently serving Dallas also provide telecommunications services and pay both fees.
Based on SB1152, Time Warner Cable/ Spectrum and Grande Communications may be exempt from telecommunications right of way fees, and AT&T and Frontier Communications/Verizon may be exempt from cable TV franchise fees.
This new legislation takes effect on Jan.1, 2020, and will reduce revenue for both years of the upcoming biennial budget. In FY20, the total decrease will be $6.6 million, and the decrease will be $9 million in FY21.
Another major legislative change is HB1631. This law went into effect on June 1 and states that the city will no longer operate its red-light camera program or issue citations for violations based on a photographic enforcement system.
"This legislative change will reduce revenue for FY19 by $1 million and there will be a $2.4 million net decrease for FY20," Reich said. "It will be a decrease of $7.5 million in revenue and $5.1 million in expenses.
Factors that may impact the general fund expenses align to six strategic priorities, which include public safety; mobility solutions, infrastructure and sustainability; economic and neighborhood vitality; human and social needs; quality of life; and government performance and financial management.
Town hall meetings to discuss the upcoming budget will take place in August.
Council member Carolyn King Arnold of District 4 reiterated the fact that despite budget deficits, public safety needs to be a top priority.
"We need to be the council that goes on record to having fought for public safety," Arnold said. "So we are not continuing to play this game of which cup are you going to find this money. We cannot do without public safety. We need to do what we know we can do, and we need to find this money and cannot go to these town hall meetings and continuing to feed that, 'Oh, we are down 700 officers.' I had a constituent tell me she does not want to hear that. She wants an answer to the question, 'What are we going to do and how we are going to address public safety in this city?'"