Local business duo is nation's only Black certified Scrum trainers
Matthew Hirst | 7/1/2019, 2:53 p.m.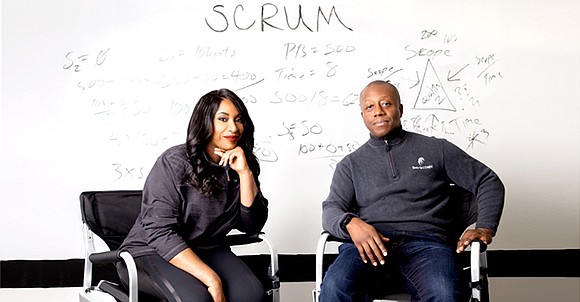 The Dallas Examiner
When it comes to helping businesses bring more efficiency to their workflow management processes, BeardedEagle Management and Consulting Firm – the only Black-owned firm certified by the Scrum Alliance – is said to be one of the best around. That's largely due to co-founders Devon and Lizzy Morris, the charismatic, diligent and once-married but now divorced power-duo, who decided to put differences aside in order to build one of the premier Agile and Scrum consultancies in the world.
The partners built a multimillion-dollar firm in 12 years, and garnered a reputation for taking companies to the next level – helping them thrive, creatively providing some of the best Agile, Scrum, Lean and Six Sigma business solutions.
"BeardedEagle is a management consultancy practice for people who are wanting to see their organization change, whether it be from the top-down, from the middle-out or from the bottom-up. But they want to see their organization make a shift, and they are ready to do the work necessary for that shift to be made," Lizzy said. "We are the company that is there to help them make it without coming in and making them feel like they've made huge mistakes."
Personally and professionally helping companies get to the next level through the application of Agile methodology and Scrum is the name of the game for BeardedEagle, because businesses are only as strong as their management. Alongside growing as a company comes the need for operational consistency and efficiency that can scale too.
When it comes to project management, people often use the words "Agile" and "Scrum" – but what do they mean?
"Agile … is a collection of values and principles that you live and breathe, no different than the Ten Commandments or any other value that you have in your life. You incorporate them into your everyday actions and behaviors. There's Agile, and then there's Scrum," Devon said. "Well, Scrum is something that we do, while Agile is something that we live and breathe. So Scrum lives and breathes the values and principles of the Agile manifesto.
"If I were to explain Scrum to anyone, I would say, 'Just think about short cycles of getting things done that you want to achieve.' All you do is start off with a plan, you work your plan and you get to the end. You learn about the product you built, you learn about the thing that you made, then you try to find a way to get better at the next go-round. … So there's Agile, and then there's Scrum, and we operate in both of those worlds."
But what are the benefits of Agile and Scrum?
In a world where so many businesses become entrenched in their ways and reluctant to incite organizational change from within, there has to be a noticeable benefit for companies willing to adopt an entirely new project management methodology. There is, Lizzy said, although sometimes companies struggle to see it and aren't willing to commit the time and effort to building the work atmosphere they desire.