Local business duo is nation's only Black certified Scrum trainers
Matthew Hirst | 7/1/2019, 2:53 p.m.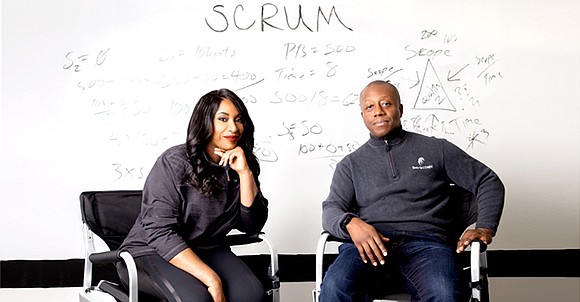 But those willing to work for it will certainly reap the rewards. Part of this success is due to how understandable Agile methodology and Scrum are to anyone who has experienced the hindrances of project management in any space.
"One of the things that Scrum does is that it takes the frustrations that they're well-aware of in regular project management and the things that they know don't work. Scrum exposes those and simplifies the project management process and makes everything visible. So instead of a project manager now having to be honed down and creating needless Gantt charts and paperwork that means nothing, it allows them to equip their teams, who they trust, to actually get the work done. And the business is normally semi-involved – it lets them come take a seat at the table and actually drive it," Lizzy said.
She went on to speak of how many of the project managers she has worked with – particularly the older, male ones – have given her a lot of positive feedback.
"What they loved was the empiricism that is embedded in Scrum – the fact that you are doing and learning and not pretending you're supposed to know. So you no longer have to pretend to know exactly what the outcome's gonna be before you actually start the work. You just need to know what the goal is that you're trying to drive toward," she continued.
The duo is dedicated to the methodology of Agile and believes that the applications are vast, going much further than just the traditional business uses as they are currently known. They have planned to launch two new programs this year: ScrumFit, aimed at helping people make the best of their fitness experience, and Scrum for Living to help schedule and manage everything else in life.
In spreading their message of improving efficiency in the workplace and beyond, the company has traveled across the globe. They've even done work within the music industry, with Lizzy having produced a Christian Christmas album in Atlanta using Agile methodology as its foundation.
"If you really boil it down to what this year is all about, you can put it in our theme for Dallas called 'Inoculate Dallas.' The idea is that we are trying to bring all styles, the things we know in terms of Scrum, and apply it in everyday living in the Dallas community," Devon said. "So we moved our office to Dallas – we were in Grand Prairie. ... I feel like we'll have more of an impact on communities here by being located where we are now. When it comes down to that juvenile work that we're going to start doing, we've already been doing work in schools, we've got educators that we work with.
"We're just finding more ways to just touch, make ourselves more present and work with various people that are already doing great things in this community, and how can we partner with you to make this an even better world than what it is today. … We're finding the ways to just bring it back to those basics of it takes a village to make this world a better place, and that's what we're actually doing here in Dallas."