Beating the Odds: Two-time breast cancer survivor offers inspiring message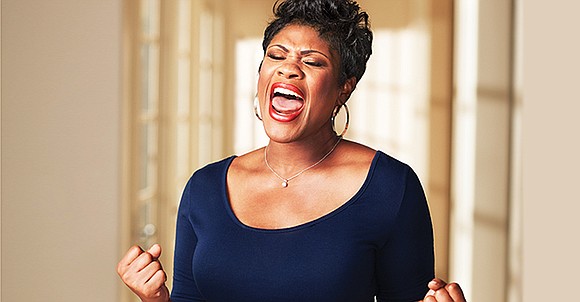 The Dallas Examiner
Nikia Hammonds-Blakely has been fighting like a champion her whole life. At 41 years old, she is a two-time, 25-year breast cancer survivor.
A motivational speaker and gospel singer, Hammonds-Blakely's goal is to educate young African American women to take control of their breast health and overall health management as a spokesperson for the Know Your Girls campaign.
The KnowYourGirls.org campaign is a breast cancer awareness movement led by the Susan G. Komen Foundation, which educates Black women to take charge of their breast health with early detection and screenings.
According to the foundation, which teamed up with the ad council and the campaign, Black women in the U.S. are about 40% more likely to die from breast cancer than White women. Also, Black women are diagnosed at a younger age and at later stages and with more aggressive forms of the disease. Also, Black women are more likely to be diagnosed with breast cancer under the age of 45 than White women.
Hammonds-Blakely also educates Black women about breast cancer awareness through her breast cancer foundation, CHAMPION Promise Foundation.
"I started the foundation because I have a long history of breast cancer," Hammonds-Blakely said. "I was originally diagnosed when I was only 16 years old. I was a sophomore in high school, and my entire life I had to be proactive and maintain my breast health. It lends itself to my overall health. My weight and diabetes have been things that I struggled with my entire life. So we wanted to start a foundation to help young women take control of their health as young as possible and to let them know what options are out there if they are ever faced with a giant such as breast cancer."
She regularly speaks at church settings, youth groups, women organizations and nonprofits to educate women primarily about breast cancer, and that you are never too young to know your body or start with a detection process.
Hammonds-Blakely also had the opportunity to support young women in Africa, ages 13 and 14, who were battling stage 4 breast cancer. She was able to help support young, underprivileged African patients with almost $1,000 worth of bras, prosthetics and medical supplies. With the help of her community, she raised over $115,000 to support the Princess Nikky Breast Cancer Foundation in Abuja, Africa.
She is an advocate and ambassador for women's breast health.
"The media campaign, Know Your Girls, helps women to start a conversation with their doctors for the very first time," she said.
She vividly remembers the day she first detected that something was off with her body.
"I found out one morning when I was in the shower getting ready for school, not trying to do a breast self-exam, but simply taking a shower. While I was in the shower, I felt a lump big enough to be a concern for me," she said. "I mentioned it to my mother who then scheduled a visit with the doctor as part of a routine physical. I went to the doctor and at the end of physical she did a breast exam and she felt the lump. At first, she shoved it off and said don't be too concerned because you are young and girls your age are just forming breasts and they tend to be lumpy and bumpy. But, at the end of the visit she decided to be on the safe side and get it tested."