Beating the Odds: Two-time breast cancer survivor offers inspiring message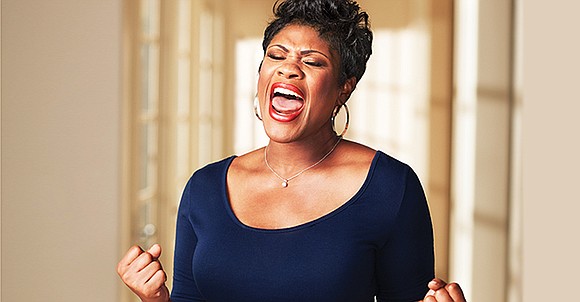 After scheduling a biopsy, not only did the lump turn out to be breast cancer, but it was a very rare and aggressive form of breast cancer.
"The original recommendation was to have an aggressive treatment and complete removal of both breasts," Hammonds-Blakely said. "But as you can imagine, with me being just a teenager, that was really hard to take, and while I knew it would require me to act aggressively and require surgery, I am a woman of faith and I knew that I wanted to couple my prayer with my treatment. Ultimately I agreed to have a partial mastectomy of the left breast along with a summer treatment. They said that if my radiation treatment looked good by the end of summer, then I could avoid chemotherapy treatment."
By the end of the summer, there was no hint of the disease.
The primary issues she faced when she was young were self-esteem issues and body image issues.
"I always struggled with my weight, but the surgery left me pretty disfigured, and I did not have the best of insurance, and I did not have the greatest in doctors," she reflected. "I did not know what to ask doctors, and I did not know what I was lacking or missing. It is a part of why I am so passionate about educating women about what resources are out there, because people who are underinsured or who have no insurance don't get the same treatment or same treatment options that other people get."
"I had a very botched surgery and I didn't know about prosthetics or bras or reconstructive surgeries that could of made my journey a little easier."
She said she really struggled with the disfigurement and having to use gym socks to stuff her bra to make it look even.
"The treatments itself, the radiation was pretty harsh on my body. The way they angled the radiation, my vocal chords took a direct hit, and they told me I would have lifelong problems, bronchial issues as a singer. I would have recurrent hoarseness."
Despite the struggles, Hammonds-Blakely said this fueled her desire to live.
"I tell you that the breast cancer diagnosis and treatment fueled my will to live because the journey was so rough that I really realized that life is short and it has to be maximized," she said. "It ended up being one of my greatest blessings up to that point."
Hammonds-Blakely went from being a C student to making all A's in school.
"Just facing death and a disease that big, I just wanted me to live and at that point I become an A student, and from that diagnosis to my senior year, I ended up graduating at the top of my class with A's and with honors and became the first person in my family to go to college. That was all as a result of the fire that was lit under me as a result of the diagnosis."
However, Hammonds-Blakely would have to battle again and champion herself once more. At age 34, 18 years after she was first diagnosed, the cancer returned in the opposite breast.