Dallas and the 86th Legislature
Matthew Hirst | 7/7/2019, 10:57 a.m.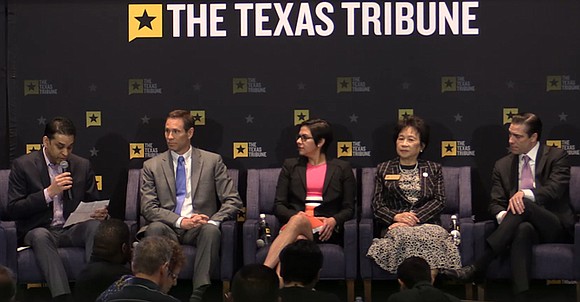 The Dallas Examiner
Residents and legislators gathered for the "Dallas and the 86th Legislature," an in-depth discussion about the state's latest legislative session that took place June 13 at the Communities Foundation of Texas Mabel Peters Caruth Center.
The event was part of a series of post-legislative session events that were presented by The Texas Tribune to help voters all over Texas break down the 86th Texas Legislature and what the session meant for their city. Tribune editor Ayan Mittra was joined for a relaxed Q&A by Dallas-area state Reps. Angie Chen Button, R-Richardson, Jessica González, D-Dallas, and Morgan Meyer, R-Dallas, and state Sen. Nathan Johnson, D-Dallas.
For most of the hour, Mittra asked questions and facilitated the conversation before opening up the forum for a couple of questions from the audience. Overall, the session hit on bills, such as House Bill 3 and Senate Bill 2, as well as budget and city issues, such as public education and property tax reform, maternal health care and health care legislation overall.
Question: I want to dive deeper into House Bill 3. … We talked a lot about the top lines, the figures, the $6.5 billion new spending, $5.1 billion going toward lowering property taxes. Per- student funding going up, full-day pre-K for more kids. … Could you talk, this is for the group, talk a little bit more about what actually schools, teachers and students, basically on the ground in Dallas, what will they see differently as a result of this bill? Not necessarily just the numbers, but what will actually change as a result.
Meyer: There's another part in this bill, which is very, very important – DISD led the way on merit-based pay for teachers and saw how that can transform school districts. I believe, and I believe these are the numbers, that prior to Dallas instituting this program five years ago, there were about 40 failing schools. Within four years, it reduced the number down to four. … You're going to see that throughout the state … incentivizing teachers to go to schools, which are otherwise not performing, helps not only the schools that they're going to, but the school districts. And we made it as well, which folks should know, we made it to where it is elective by the school districts. … We said, look, we are here to provide you the resources, but we believe you know best on how to allocate those resources. And I think you're going to see that in Dallas and elsewhere throughout the state.
Button: I'd like to talk about the background of how we put this together and the efforts we made. … For example, the superintendent, Dr. Stone, she visited along with the delegation from Richardson, and I showed her the cups that our speaker, Dennis Bonnen, put together and put into the members' lounge. It says, "School Finance Reform Now," which means, if you don't repeat that to yourself three times a day, you don't get to have any coffee. And that really made a difference when I showed Dr. Stone. … She was very moved … and she brought it back to show that to her folks, her staff – how hard we tried to get things done. Then, Chairman Dan Huberty, my hat is off. He worked so diligently. … No matter where Chairman Huberty was, he was able to get back with us. … The speaker joked about how, if there's any superintendent in the state that hasn't talked to Huberty, that's because of their fault. It's not that Huberty didn't want to spend time to talk with them. … It has been so hard all those years trying to make a difference, but we finally got it down. I was so moved by all the people getting involved.