Dallas and the 86th Legislature
Matthew Hirst | 7/7/2019, 10:57 a.m.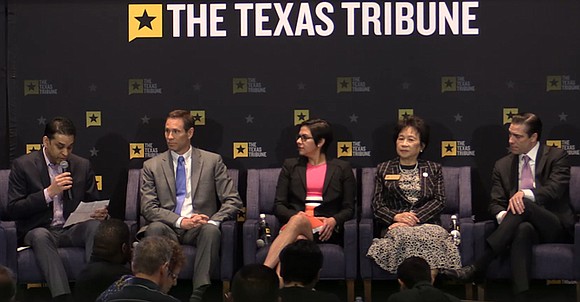 González: Well, two of the main districts that I represent are DISD and Grand Prairie ISD. I think two of the main impacts that the districts will feel is the funding that we get per student and also less money that goes into recapture. … Now, the bill isn't perfect. Everybody wasn't completely 100% happy about it, but it's a starting point, right? And it was a way to get started, and this is where the work begins. Working together on how we can improve it, how to sustain it.
Johnson: It isn't perfect, but it was one of the examples of this past legislative session where compromise and pitting opposing forces against each other, I think, did result in something quite good. … This is overall a good bill, and we're going to be able to evaluate overtime, and things that aren't working we'll fix. … I think probably the single biggest victory for this district, and it's common throughout the state, but especially for Dallas, is the all-day pre-K.
Question: Okay, so everyone on the panel here backed HB3. I'd like to transition to a bill that did not have the support of everyone on the panel and that's SB2, Senate Bill 2, which is the property tax legislation. Some of the top lines there is basically to create a 3.5% election trigger for most cities and counties, create an online database that helps bring about more transparency with property appraisals and property tax assessments and allotments. And then … there was a separate rollback trigger for community colleges and hospital districts. First, I'd like to start with the Republicans on the panel about what was right with this bill, and then I'd like to have the Democrats on the panel follow up with what their concerns were about the legislation.
González: What is right about this bill is because the voters are telling us. I know the local city officials are not necessarily happy about that, but the fact is the voters are telling us that this property tax has been really, really a major pain to the majority of the voters, and we have to listen to their concerns. … It is our responsibility to respond to the voters of our state, but one thing people don't realize is … that bill also gave us the transparency and also the methods, the most effective ways, to enable the voters to make the protest to understand their property tax. What really was calculated, the appraisal process, where, when and how to make their concerns heard. So, I think that part of it, the transparency and the effectiveness in communication is equally important. Of course, it's not perfect, but on the other hand, you know, we've got to do something, and it has been long overdue.
Meyer: I'm going to respectfully disagree with your premise, because this bill has bipartisan support. That is one thing which is lost sometimes in the narrative; it's lost sometimes in the reporting. I believe Canales was there at the signing yesterday. I don't remember how many Democrats voted for it, but I do know a number did, so this is a bipartisan bill. … It is an election trigger, to where if cities come to us or come to the voters and say, "Hey look, we need this for X, Y or Z," the voters get a chance to say. And that was one of the biggest concerns for my constituents … the ability to have tax reform. And we also provided tax relief in HB3, which sometimes goes unnoticed, but we put $5 billion in HB3 into tax compression and depressing the rates. So, for us, this was about transparency. … It was about having the voters have a say.