Dallas City Council: Rainbow crosswalks, formerly incarcerated workforce and Catholic Charities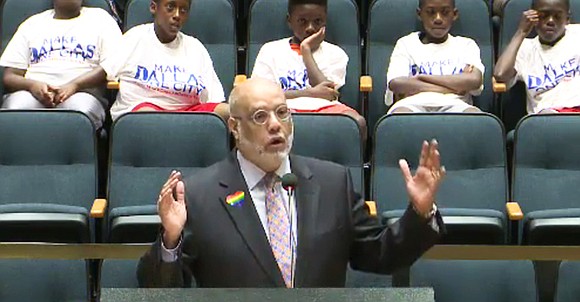 The Dallas Examiner
Colorful crosswalks are coming to Dallas. The Dallas City Council voted unanimously to add 10 rainbow crosswalks in the Oak Lawn area during its June 26 City Council agenda meeting.
The crosswalks would be located at Cedar Springs Road intersections between Douglas Avenue and Oak Lawn Avenue, an area known for its large LGBT community. The GLBT Chamber Foundation will manage the project.
The Cedar Springs Road intersections projected to get rainbow-striped crosswalk include Oak Lawn Avenue, Douglas Avenue, Reagan Street, Throckmorton Street and Knight Street.
The cost of the project is $128,250. Construction is set to begin in September and may take six months to complete.

Chris Luna, with the Dallas Crosswalk Project, said he is excited about this initiative.
"What we are talking about is rainbow crosswalks," Luna said. "And not any rainbow crosswalk, but crosswalks that will be in the colors of the LGBT pride flag. There are already people who have funded $70,000 for this cause. We only started the funding six weeks ago, and we didn't know what the total was going to be until the bids came back. So we feel very confident that we will be able to raise the entire amount."
Council member Omar Narvaez of District 6 fully supported the cause.
"Dallas is known as a welcoming community, and we embrace the art and culture of it by making things significant," he said.
In other city news
The City Council also approved to authorize a two-year service contract to administer a Workforce Readiness, Placement and Retention Program to provide career pathways training with City Wide Community Development Corporation.
Council member Casey Thomas of District 3 said this workforce development program was established to reach individuals with the greatest needs, such as those formerly incarcerated.
"We also use this as an effort to work to end poverty in the city of Dallas," Thomas said. "So each of the community-based organizations who applied and did receive this particular grant had to commit to going into the highest poverty area within the city of Dallas. We have poverty areas in 14 council districts, and so that commitment has been placed for out-of-school youth, former offenders, single moms, single parents, and these populations were populations we targeted."
Thomas said this program works because not only does it give individuals job training, but it also helps them with case management.
"One of the things is that we have a lot of people who have gone through a lot of job training programs, who have certifications, who have not been able to get hired," he said. "As part of this process, they have to have an employee partner to work with them, so when these individuals completed the training vocation, they would have the opportunity to actually be hired and go to work. When we talk about these populations in this case, former offenders, we want to make sure that we do our part here to the city to prevent individuals going back into incarceration, and so this population is a challenge. The beauty in this is the case management to the homeless. Not only will [City Wide Community Development] Corporation provide technical skills, they have case management, and each person will have someone who is there to help them to transition from public assistance."