Sankofa Garden Homes: Our yards, our gardens
Clarence Glover | 7/14/2019, 10:33 a.m.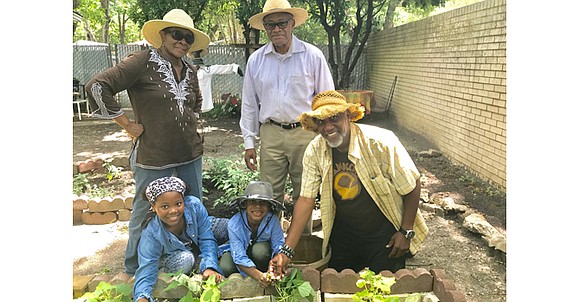 Sankofa Gardening Homes
I dedicate this month's article to Dr. Charles Mitchell, M.D., and his wife, Vernil Mitchell, who shared their yard garden with me years ago and inspired me to grow mine. Thank you for keeping our heritage and culture alive!
"The Africans who were brought to the U.S. as slaves had left one agrarian society in Africa, to be forcibly introduced to another totally different system in the New American colonies." – John McLaughlin
The above quote is taken from A Guide to Planting an African American/African Focused Yard in Miami-Dade County: An Overview of Landscape Design and Plants Grown in Traditional African American Yards, from the Miami-Dade Extension Office. The quote reflects the fact that Africans brought to America during slavery came from well-established agrarian societies.
Coming from the tropical West Coast of Africa, many of the people from countries such as Ghana, Sierra Leone, Nigeria, Cameroon, Senegal, Yoruba, Mandingo and Fulani were master gardeners. While they had large farms where a variety of fruits and vegetables were grown, they also grew gardens around their homes where food was readily accessible.
As a result of slavery in America, millions of Africans were brought to the Americas. Many were brought to the East Coast of America where they found a landmass very familiar to that of the West Coast of Africa. Familiar with the southeastern land and climate, many Africans worked to grow plants they brought from Africa, such as black-eyed peas, gumbo (okra), watermelon, squash and goobers (peanuts). They also began to grow greens (collard, turnips and mustards), and yams (sweet potatoes). These fruits and vegetables soon came to be a part of the stable diet of Africans in the American South, known as "soul food."
The yards of many enslaved Africans became the focus of their gardens, in that they could not own land. Their yards became an extension of their cabins, expressions of their lives and places of socialization and bartering (the exchange of one good for another).
Richard Noble Westmacott, in his book African-American Gardens and Yards in the Rural South, stated the following:
"Our yards and gardens are places where we perform all sorts of mundane tasks. Moreover, they are likely to reflect our aesthetic preference and our philosophy of life. In this book, I have endeavored to describe traditional patterns and practices in the gardens and yards of African American families and to examine the ways in which the traditions are evolving. I have explored the thoughts and the impulses behind each design focusing on the concepts of the garden as a place serving specific functional needs and also expressing values, aesthetic preferences and spiritual belief. The functions of the garden for food production, household chores, welcome, leisure and entertainment are analyzed."
I encourage you to get his book and explore further his study of African American gardens and yards, particularly in light of the recent growth of urban gardening and the green movement, and how African Americans can learn from their ancestors this age-old tradition of growing food in their yards.