Sankofa Garden Homes: Our yards, our gardens
Clarence Glover | 7/14/2019, 10:33 a.m.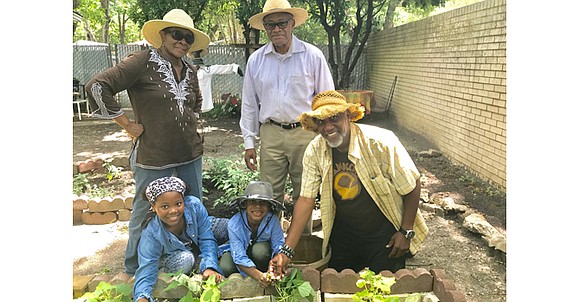 In the March 14 edition of The Dallas Examiner, the Sankofa Garden Homes featured Al and Lela Herron and their grandchildren, fourth-grader Brooklyn and first-grader Braxton Bruff, students at Harry Stone Elementary School, visiting my Sankofa Garden Home. In that article, I reflected on how excited Brooklyn and Braxton were when they entered my garden and began picking collard greens, much to their grandparents' surprise. They were so excited with picking collard greens that they asked their grandparents if they could have a garden.
Six months later, I was extremely excited to know that Brooklyn and Braxton's wish had come true. Their grandparents have turned a portion of their yard into a "Sankofa Garden Home."
Upon a recent visit, I found the Herrons had done a wonderful job in creating above-ground garden beds as I recommended.
The garden was well-planned and utilized a variety of materials that were around their home. The scarecrow was a work of art, while the strategically placed chairs and tables gave the garden a warm and welcoming feeling. The landscaping design provided space for their summer garden of beans, tomatoes, squash and peppers, while beds along the wall were prepared for their fall collard, mustard and turnip greens.
When asked how she felt about their garden, Lela replied, "I am really excited about how well the vegetables are growing and how Brooklyn and Braxton are learning about how food grows. They are learning about how to grow food and where food actually comes from. I hope they learn to eat more vegetables and what vegetables can do for their body."
When I asked Al what he thought, he replied, "My wife and I grew up in Mississippi on farms with plenty of field peas. I was excited when my wife wanted to plant a garden and the excitement the grandchildren showed in helping with the garden. It's rewarding to produce your own food in the city."
It is clear that Al and Lela are excited about their garden and are drawing upon memories from their ancestors gardening skills. It was moving to see African American grandparents who grew up in the South passing on important gardening skills to their grandchildren who will pass them on to their children.
When I asked Brooklyn how she felt about the garden, she replied, "I like it. It's like a human being. It grows like a baby to an adult and passes on and it regenerates. I learn a lot of things about how humans grow and how plants grow."
When I asked Braxton, he replied, "I liked it when my grandparents created the garden. I like to watch it grow from the bedroom window. I would like to have a garden one day."
When I asked their mother, Latosha Herron-Bruff, her reply was, "I love that my children have the opportunity to spend quality time with their grandparents learning how to grow and care for a garden. They are excited to see the fruits of their labor. These are moments they will remember forever."
Latosha is right, because I have never forgotten the garden in my grandparents' yard.
Create a garden in your yard and let me know about it. Eat well, live well!
Until next month, happy Sankofa Home Gardening!
Clarence Glover, known as Professor Freedom, is a historian and president of Sankofa Education Services. He can be reached at clarencegloverjr@aol.com.