Parkland steps up diabetic foot care with launch of Happy 'Healthy Feet' initiative
7/22/2019, 10:10 p.m.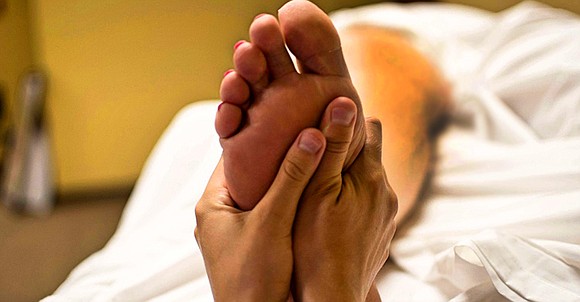 Special to The Dallas Examiner
Diabetes makes the feet vulnerable to foot problems that can develop into infections leading to amputation and disability. More than 35,000 patients of Parkland Health & Hospital System have diabetes that puts them at risk for a diabetic foot wound.
However, proper preventive care can dramatically reduce the incidence of infection and amputation, and can provide better management for patients at risk, research shows. Taking a major step to prevent severe foot problems, the Global Diabetes Program at Parkland recently launched the "Healthy Feet" initiative designed to identify patients at high risk for diabetic foot problems and connect them with risk-stratified preventive foot services.
The program will place three specialty foot care teams overseeing the new preventive care strategy at Parkland Community Oriented Primary Care health centers throughout Dallas County. Each team will be comprised of a nonsurgical podiatrist, a registered nurse with specialty foot care training and a senior medical assistant.
"Amputation and foot ulceration are common and feared complications of diabetes mellitus. Many times these unfortunate complications can be prevented with proper foot care, screening and timely intervention," said Javier LaFontaine, DPM, MS, a podiatrist at Parkland's Foot Wound Clinic.
"The Healthy Feet program enables us to identify at-risk patients with diabetes, as well as any patient with a foot anomaly to reduce complications and improve patient care, prevent unnecessary emergency room visits and surgeries, and provide greater access to foot care specialists in the community," said Kellie Rodriguez, RN, MSN, MBA, CDE, director of Parkland's Global Diabetes Program.
To promote the right care for the right patient at the right time, a new foot risk assessment tool in the electronic health record determines if a referral for specialized foot services is required. A risk stratification score automatically assigns patient risk from highest (category 4) to lowest risk (category 0) and generates a recommended clinical management pathway that can include orders for further assessment such as X-rays.
Those identified with an urgent condition will be referred to the Foot Wound Clinic or Emergency Department at Parkland Memorial Hospital. Moderate risk categories 3 and 2 will be cared for by the foot service teams at one of Parkland's COPC health centers, while lowest risk categories 1 and 0 will be managed by primary care health providers at Parkland COPCs.
One of the 12,000 patients seen last year at Parkland's Diabetic Foot Wound Clinic, Samuel Whitaker, 59, was diagnosed with type 2 diabetes more than 25 years ago. A few years later while living in Houston, he had surgery for amputation of all of his toes. Poor nutrition, obesity, lack of exercise and a reluctance to change had caught up with him.
"I was hardheaded," Whitaker admitted. "I didn't take good care of myself."
Focused on preventing foot ulcers that too often result in amputations like Whitaker's, the Healthy Feet initiative prioritizes education for both patients and primary care teams, according to LaFontaine.
"One of the key roles of the nurses on each team will be providing in-depth foot care training to staff at the health centers, along with enhanced patient education," he added.