Castro's out and Hegar's in, but other Democrats still eyeing Sen. Cornyn's seat
PATRICK SVITEK and ABBY LIVINGSTON | 6/2/2019, 2:54 p.m.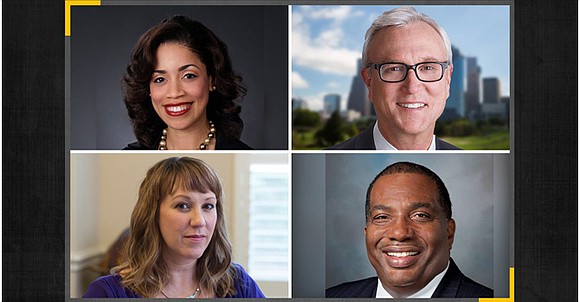 The Texas Tribune
When U.S. Rep. Joaquin Castro announced earlier this month that he would not run for U.S. Senate in 2020, the San Antonio Democrat cleared up one major question hanging over his party's primary. But the field is anything but settled.
Two weeks later, the clock is ticking for Democrats to mount serious campaigns to unseat U.S. Sen. John Cornyn, R-Texas, an uphill battle even with Texas' changing political landscape. Arguably the most prominent Democrat already running, MJ Hegar, announced her campaign three weeks ago but has been – on the surface, at least – off to a slow start that has done little to dissuade at least three other Democrats from considering runs.
Among them is Amanda Edwards, an at-large Houston City Council member who has been mulling a campaign since at least early March and appears to be moving closer to running. She has been in conversations with the Democratic Senatorial Campaign Committee and is heading to Washington, D.C., next week to continue those discussions, according to a source familiar with her plans.
Edwards, who is African American, has been emphatic that Texas Democrats need a U.S. Senate nominee who can mobilize the party's base, particularly underrepresented groups that suffer the most from low turnout.
"It is imperative – there is no way around it," she told reporters earlier this month in Houston. "If you don't galvanize people of color, young people under the age of 35 ... Democrats are not going to be successful."
In addition to Edwards, state Sen. Royce West, D-Dallas, also continues to draw discussion as a prospective candidate, though he has said he is focused on the ongoing legislative session that ends later this month. And Chris Bell, the former Houston congressman, announced Monday that he was seriously considering a bid. Bell, the 2006 gubernatorial nominee, suggested he was not intimidated by the nascent field, saying competitive primaries can be difficult but healthy in the long run.
"It's sort of like having a family fight, but we all get through Thanksgiving and come together the next day," Bell said, approvingly citing Castro's recent declaration – before he opted against running – that the era of "uncontested primaries in both parties in Texas is over."
While it remains to be seen how viable Edwards, West and Bell would be – Bell is the only one with experience running statewide – they all appear to be undeterred by the opening weeks of Hegar's campaign. Beyond a barrage of fundraising emails, she has kept a low profile, not holding any public campaign events and doing only a handful of media appearances – all things one would expect as a candidate looks to establish early momentum in a nationally watched race.
"It's concerning," said one Democratic strategist unaffiliated with any of the declared or potential candidates. "At this time two years ago, Beto was criss-crossing the state. The question I'm seeing now is where exactly has MJ Hegar been?"
At this point in his blockbuster 2018 campaign, Beto O'Rourke had visited a dozen cities throughout the state and was on his way to hitting twice as many by the end of his first month.