Castro's out and Hegar's in, but other Democrats still eyeing Sen. Cornyn's seat
PATRICK SVITEK and ABBY LIVINGSTON | 6/2/2019, 2:54 p.m.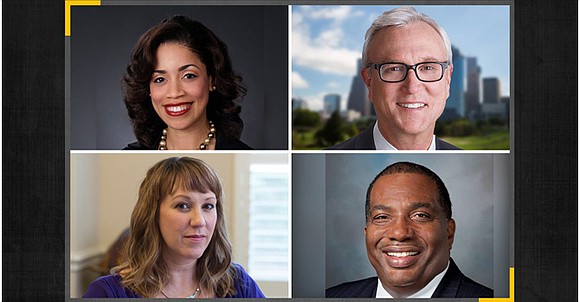 But while O'Rourke's campaign is the comparison most Texans can make to this race, it was not the typical Senate campaign, and Hegar is taking a much more traditional tack. Instead of plowing across the state in a pickup truck and livestreaming dozens of town halls, she has been spending time fundraising and meeting with local activists, working closely with the Democratic Senate campaign arm and her campaign manager, Preston Elliott, a seasoned veteran of Senate races elsewhere in the country.
Elliott had a simple warning for anyone considering taking her on.
"They need to know the size of the fight they're about ready to get into," he said.
Hegar launched her latest campaign via a web video that invoked the 2018 viral video that vaulted her earlier bid against U.S. Rep. John Carter, R-Round Rock, into competitiveness. The new video also included celebrity endorsements from the previous campaign, a move that rubbed a number of Texas and national Democrats the wrong way – not to mention handed Cornyn's campaign an easy attack line. His campaign has nicknamed her "Hollywood Hegar."
Hegar's campaign manager shrugged off the criticism.
"We are very happy where it ended up," Elliott said. "We had a tremendous response to it, and we got a lot of support. It worked."
The day after announcing her campaign, Hegar was endorsed by VoteVets, the national progressive group for veterans. Beyond that, other prominent groups are waiting to see how the primary takes shape before potentially getting involved. Among them is EMILY's List, the influential organization that works to elect Democratic women who support abortion rights, which backed Hegar in her U.S. House bid last year and made clear in March that it wanted a woman to challenge Cornyn.
"As of right now, we're closely watching the race," EMILY's List spokeswoman Maeve Coyle said. "We're always thrilled to see women step up and take on these tough flip seats, especially fantastic candidates like MJ."
In addition to Hegar, the Democrats already running include Michael Cooper, Sema Hernandez and Adrian Ocegueda.
Typically, Washington Democrats bristle at competitive U.S. Senate primaries. They often can become bloody affairs, resulting in unelectable candidates who are broke once they win the nomination. But Texas is different from most states.
First of all, it remains a lower priority compared to Senate races in other states, though not as low as it was considered in 2018 – when 10 Democratic senators were running for reelection in states President Donald Trump carried two years earlier. This year, Democrats are in a less defensive position, but other states in contention, like Arizona, North Carolina and Georgia, would be far less expensive for Senate leadership to invest its limited resources.
Even so, O'Rourke's near-ouster of Cruz last fall has changed how the state is viewed ahead of 2020. Key Democrats in Washington are reconsidering whether its 20-plus media markets are worth the investment. And down-ballot, the campaign arm for U.S. House Democrats is threatening to make investments in races in every major media market in the state – an opportunity to offer a reverse coattails benefit to the eventual Democratic nominee running against Cornyn.