Dallas City Council: Discussion held on tackling predatory lending and increasing property tax exemptions for seniors, disabled
DIANE XAVIER | 6/16/2019, 5:27 p.m.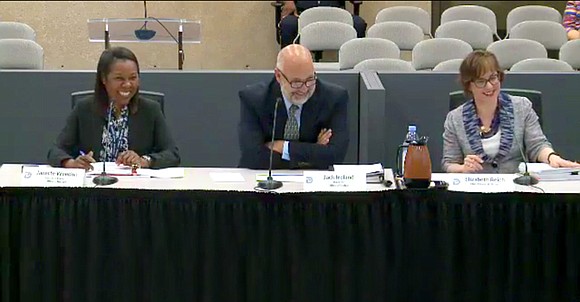 The Dallas Examiner
The Dallas City Council heard from the Financial Inclusion Roundtable at its briefing meeting on June 5. The roundtable is led by council member Rick Callahan of District 5 and is a collaborative effort to bring financial institutions and community organizations together to share and learn about ways to better connect low- and moderate-income families to insured deposit accounts, fair credit and quality financial capability programs.
It is also a four-way partnership with the city of Dallas, the United Way of Metropolitan Dallas, the Federal Reserve Bank of Dallas and the Federal Deposit Insurance Corporation – known as the FDIC.
"It is an effective partnership between financial institutions and community organizations to address financial stability and to showcase safe and affordable products and services offered to families in the Dallas area," Callahan said.
Greg Mangum, vice president of community financial stability at the United Way of Metropolitan Dallas, gave the presentation.
"Seven years ago, in June 2012, I started a role at United Way to really look at community financial stability challenges and opportunities to figuring out solutions," Mangum said. "During Jerry Allen's tenure on City Council and through his efforts, the Financial Literacy Roundtable was established and the city passed the payday ordinance to help households become more financially stable. He asked me to convene a group of people that can really look at this issue for the purpose of trying to figure out [how a] payday lending ordinance was going to get established, how can you create alternatives to make sure people had access to fair and affordable credit."
He said their purpose became to stop vulture capitalism and help reduce consumer high interest loan debt, find alternative loan options and avoid further debt to households.
"It is really about curbing predatory lending and figuring out what alternatives could exist in the marketplace and how we can make those connections to those alternatives between financial institutions and community organizations," he said. "That led us to the creation of the Financial Inclusion Roundtable."
Some of the challenges the group has to work with in the community are unbanked and underbanked persons and those with subprime credit.
A study done in 2012 and 2018 by the Community Foundation of Texas, which looks at assets and opportunities in Dallas, reported that unbanked and underbanked rates are decreasing over the last 10 years.
"The FDIC does regular studies looking at rates of underbanked and unbanked populations and the Dallas rates are decreasing," Mangum said. "But we still have challenges around credit. So we have many people in the city that either have subprime credit scores or no credit file at all and so trying to address how we can help those people access credit is important."
The goals for the Financial Inclusion Roundtable is to be able to help financial institutions and community organizations share perspectives, ideas, challenges and best practices within their marketplaces, according to Mangum.
Mangum said they plan to do this by hosting quarterly forums that showcase safe and affordable products and services, along with effective partnerships, to learn from experts about emerging trends and innovative solutions, and maintain momentum toward strategic action.