Preventing displacement when revitalization means gentrification
MIKE MCGEE | 6/16/2019, 5:31 p.m.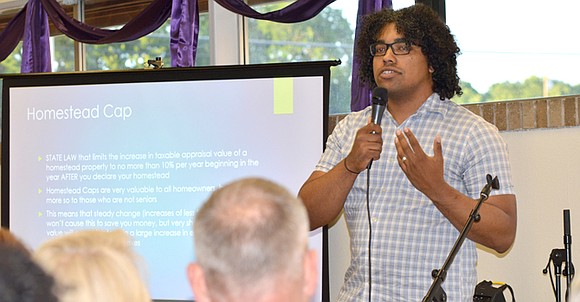 The Dallas Examiner
The revitalization of an older or economically neglected neighborhood is often welcomed as a blessing by residents and advocates for those areas. Abandoned structures may be done away with, tighter code enforcement can improve the safety and attractiveness of the streets, infrastructure is modernized, and new businesses bring with them the promise of up-to-date products and job growth, all while maintaining the character of the region.
But when revitalization becomes gentrification – defined by Cambridge Dictionary as "the process by which a poor neighborhood in a city is changed by people who have money, including especially the improvement or replacement of buildings" – the undertaking might seem like an invasion to some, and leave residents feeling a financial pinch amid the drastic, costly makeover.
Members of the Oak Park Estates Neighborhood Association in Southern Dallas understand that outlook and hosted the May 21 forum, "How to Prevent Displacement from Gentrification."
A standing room-only audience of varied races, ages and genders was in attendance at St. Augustine's Oak Cliff to learn more about how to keep their neighborhoods safe from the high costs associated with excessive growth.
Even then, a frontage road along Marvin D. Love Freeway, down aways from the West Kiest Boulevard church, was closed as part of the new construction for the Southern Gateway Project, which widens 35E and US67. Eventually a deck park – similar to Klyde Warren Park, yet denied as a definite feature by project planner John Nguyen during a June 2016 public meeting where most residents voiced opposition to the concept – will be built in front of the Dallas Zoo.
Cheryl Jackson of the Dallas Central Appraisal District addressed attendees first. She was able to provide a crash course in the residential property valuation process used by DCAD, the proper course of action and documentation needed when protesting the finding of the agency, and the fact that county residents may volunteer to serve on the agency.
Jackson also guided the audience through the homestead tax exemption and various senior citizens exemptions, in addition to the specific residential business classes used by the agency.
Paul Carden with Venture Commercial Real Estate then addressed gentrification. Be it the southerly growth of Uptown, or the ongoing court drama between HMK Mortgage LLC and West Dallas renters and homeowners that began in 2016, older or lower income neighborhoods around the city are shifted by developers into a costlier zone that tends to push out longtime residents and businesses with higher rental prices and property taxes.
Such complaints are often brought up during public housing forums or gatherings with elected officials, especially from residents or activists representing areas south of Fair Park, or to the west or east of downtown.
Carden, a founding board member of the Southern Gateway Public Green Foundation, presented to the audience some real-world methods as a way to assist in planning and preparing for gentrification for homeowners.
"This presentation does not focus on renters," he announced. "I know a lot of times when we talk about gentrification, it's very common to kind of lump everyone into a single group. But the policies and tools that are available to homeowners are vastly different than the tools available to renters," as well as the impact of those tools.