Know your HIV status – Get tested
HIV.gov | 6/23/2019, 11:55 p.m.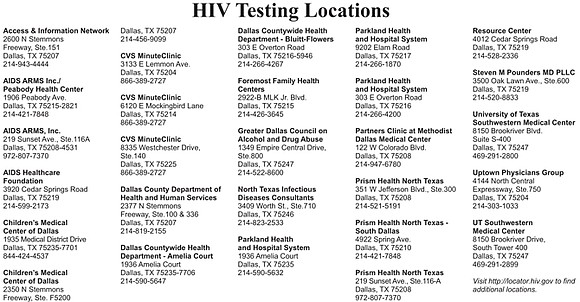 Approximately 1.1 million people in the United States are living with HIV. But not all of them know it. In fact, about 15% – or 1 in 7 – of them are not aware they have HIV. That's approximately 165,000 people. They are not getting the care and treatment that can preserve their health and protect their partners from getting HIV too.
That's why it's so important for everyone to know their HIV status. The only way for anyone to know is to get tested.
CDC has recommended that everyone between the ages of 13 and 64 get tested for HIV at least once as part of routine health care. For those whose behavior puts them at risk after they are tested, they should think about being tested again. Some people who remain at higher risk should get tested more often.
There are many places to get an HIV test. The tests are easy, quick and often free. To find locations nearby where HIV tests are available, visit http://locator.hiv.gov.
In companion pages on the site, visitors can also find answers to questions including:
• Who should get tested?
• What to expect when you get tested?
• What do the results mean?
Knowing one's HIV status gives them powerful information to help them take steps to keep them and their partner healthy.
People who test positive can take highly effective HIV medicine that will protect their health so they can live a long and healthy life and prevent transmitting the virus to their sexual partners.
If they test negative, they have more tools available to prevent HIV now than ever before. Individuals should talk to their health care provider about which preventive plan is best for them.
HIV testing is a key strategy in Ending the HIV Epidemic: A Plan for America, a report that mapped out the government's plan to reduce new HIV infections in the United States by 75% in five years and by at least 90% in 10 years. The plan's first pillar called for all people with HIV to be diagnosed as early as possible after infection so they can begin care and treatment that can protect their health, prolong their life and prevent transmission of the virus to their partners.
Prevention
HIV is a virus that attacks cells that help the body fight infection, making a person more vulnerable to other infections and diseases. HIV is spread by contact with certain bodily fluids of a person infected with HIV, most commonly during sex without a condom or through injection drug use.
HIV continues to be a significant public health issue. About 40,000 people are diagnosed with HIV each year. While HIV infection rates have been going down, rates among some groups are on the rise, most notably among young adults.
The U.S. Preventive Services Task Force published final recommendation statements on HIV screening and HIV prevention June 11. Based on its review of the evidence, the task force recommends that clinicians screen for HIV in everyone ages 15 to 65 years and all pregnant people. Younger adolescents and older adults at increased risk for HIV should also be screened. The Task Force also recommends that clinicians offer pre-exposure prophylaxis – a pill known as PrEP that helps prevent HIV – to people at high risk of HIV. These are listed as grade "A" recommendations.