Next generation of female golfers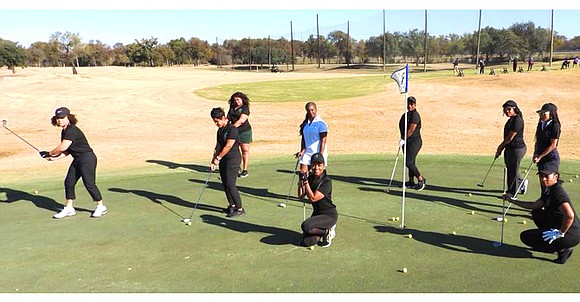 The Dallas Examiner
Diamonds are usually bright and shiny, and are said to be "a girl's best friend." Likewise, there is also a group of "Diamonds" that shine bright on the greens. Among them is Sharron Christian.
Christian, a local amateur golfer, noticed the lack of women – particularly minority women – in the sport. As a result, in 2018, she founded Diamonds on the Green, an African American amateur women's golf team.
The club's focus was to increase participation of female golfers and establish a platform that would intrigue and peak the interest of the younger female generation to the game of golf.
"It was important for me to create Diamonds on the Green to give women the opportunity to socialize, bond and fellowship with women of like mind and spirit," Christian said. "I also wanted us to keep each other lifted up as we traveled through the good and bad times. This is also a sport you can play with your children, spouse or significant other, and it does not matter your size, height or speed. It's a strategic mind game."
The club meets the third Saturday of each month and decides in advance which course they will meet at.
"This gives us the opportunity to play on different courses throughout the metroplex and each course is different," she continued. "We take individual lessons and attend clinics as a group. Currently, there are no dues required to join Diamonds on the Green. We just ask that you have your own set of clubs prior to joining. We all chip in on expenses."
Christian was also shocked to find out the number of unclaimed scholarships for youth in golf.
"Minority females are underrepresented in golf and a lot of the scholarships are going unclaimed because we don't have enough females for one, and we don't have enough minority female golfers," she said. "There are 1500 scholarships, and every year three to four hundred of those scholarships go unclaimed because of the lack of female and minority golfers."
Christian found this information out through networking, researching and learning the game.
"I partnered with DC Sports and created DC on the Green Youth Golf and Mentoring Program," she said. "My vision is to put them in a position to obtain scholarships. Not every child has the athleticism to play basketball, volleyball, football or track, so I want to bring awareness to golf and let them know those sports aren't your only option for you to obtain a college scholarship. I wish I was introduced to golf at an early age. I think things would have been different for me."
Christian said they plan to launch the mentoring program in July.
By introducing students to golf, Christian hopes they will take advantage of its benefits and scholarship potential.
"Sports such as football, basketball, track and volleyball are so saturated with talent that some of the not-so-much standout athletes get pushed to the wayside because they're in huge competition with other athletes, so they miss that opportunity for the scholarships," she explained. "So I am looking for those athletes who are not the top athletes in the sport to kind of use the other opportunity for scholarships through golf."