Next generation of female golfers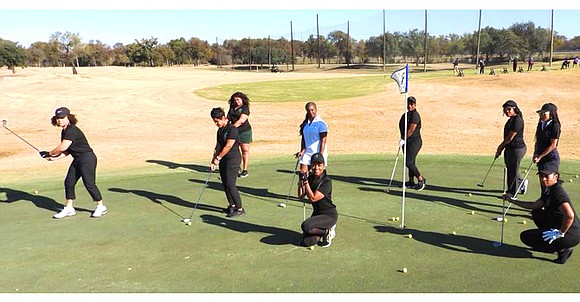 Future plans include starting one annual golf tournament for the amateur female golfers, as well as for the youth.
Golf is also a slower paced game and many students may not be used to that, according to Christian.
"We have a tradition of teaching children that we have to be on the move, we have to be on the go, go and go, but life is not always like that," she said. "Sometimes you have to take a step back and think about your next move. It is a strategy game. It teaches them to use their mind, to take a step back before you make a decision.
"I have a great group of individuals who believe in my vision for Diamonds on the Green and DC on the Green Youth Program. Without their support, this would not be possible. They include, Cheritta McCray, Diana Cage, Jackie Davis, Jamia Chisholm, Alvita Lowe, Nichol Aldridge, Michelle Lawson and a special thanks to Jon Thomas, Lou Ritchie and Pete Ealy. They gave Diamonds on the Green the platform to extend the vision to create and implement DC on the Green Youth program. In addition, I would also like to say thank you to Isreal Fininen and Valiantenno Lott of Custom Printing."
The organization also gives back through community service through its mentoring programs, back-to-school drives, and volunteering with Pat & Emmitt Smith Charities.
Christian said she is on a mission to make this dream a reality to touch and help as many as she can.
"Golf is more of a mental game and gives you time to step back and think about what your next steps are, and that's what a part of life is," she said.