Dallas City Council: Homestead property tax exemptions, bulk trash limitations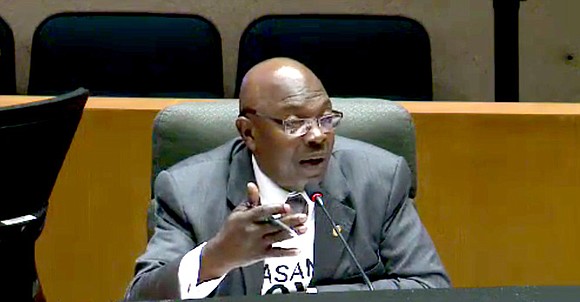 The Dallas Examiner
The Dallas City Council voted 12-1 in favor of authorizing an increase in the homestead property tax exemption for persons who are disabled or 65 or older from $90,000 to $100,000 for the 2019 tax year, fiscal year beginning Oct. 1.
The original motion the city manager gave the council, which would have been equal to indexing it to inflation over the last two years cumulatively, called for an increase from $90,000 to $94,100. But, after receiving recommendations from City Council, Councilwoman Jennifer Staubach Gates of District 13, who led this discussion, said the amendments she received from the council supported increasing the exemption to $100,000.
Councilman Kevin Felder of District 7 opposed the increase and voted against it due to budget concerns.
"Even though I like to see disabled and elderly receive more exemptions, with the state Legislature putting a cap on revenue that we are going to receive back, I'm concerned about that," Felder said. "We have a looming budget crisis coming up."
According to Elizabeth Reich, chief financial officer for the city of Dallas, raising this from what the policy called for – which was just inflating it, according to the CPI, to $100,000 – results in $3.4 million of total lost revenue, of which $2.5 million is lost revenue to the general fund.
Felder said this is a concern for him.
"When we get down to it, although I won't be here, I still am a citizen and I still will be active and engaged," he said. "My concern is that the people that are marginalized will bear the brunt of this, so I cannot support this, and we cannot afford this because of what is coming, because of the state Legislature, which has put a three and a half percent cap on what we are going to get back from the state, and so I can't do it. I will not be supportive."
Council member Omar Narvaez of District 6 was among those who were supportive of this measure.
"I think this is an excellent amendment from what was requested," he expressed. "Right now, the hardship that is being experienced by senior citizens, especially in low income areas like West Dallas and South Dallas, where folks are being forced to decide to sell their homes for amounts they cannot afford. They cannot afford another home and many of these senior citizens have lived in their homes their entire lives, or their families have lived in those homes longer, and they cannot just afford what's they're being hit with at this time, so I think this is a good amendment. Our senior citizens deserve a little bit of relief."
Council member Tennell Atkins of District 8 agreed.
"It's a no-brainer, our seniors deserve this," Atkins said. "We talk about gentrification, we talk about seniors that have been waiting a long, long time, so they deserve this."
Reich said the exemption was originally set in 1986 at $50,000 to $64,000 and not raised until 2017 to $90,000 when the council asked them to raise it to inflation.