Better, healthier baking with chocolate
Family Features | 3/1/2019, 1:15 p.m.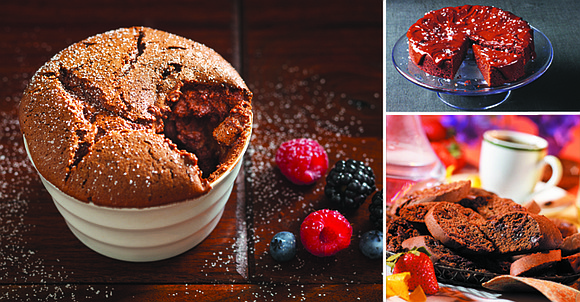 Bake cake 25-30 minutes, or until toothpick inserted into center comes out clean. Place cake on cooling rack 10 minutes then turn cake out onto rack and let cool completely.
In medium saucepan, heat dulce de leche over medium heat, stirring occasionally, until softened. Add remaining olive oil and chocolate chips and stir until chocolate has melted and mixture is smooth. Remove pan from heat.
Transfer cake to serving plate. Pour icing over cooled cake, sprinkle with flaky salt, if desired, and serve.
Double-Chocolate Biscotti
Prep time: 30 minutes
Cook time: 25 minutes
Servings: 40
3 cups all-purpose flour
1/2 cup cocoa powder
1 1/2 teaspoons baking powder
1/4 teaspoon ground cinnamon
1/4 teaspoon salt
1/2 cup Filippo Berio Extra Light Olive Oil, plus 1 tablespoon for coating pans
1 cup packed light brown sugar
2 eggs, plus 1 egg yolk
1/3 cup milk
1 tablespoon balsamic vinegar
1 cup semisweet or bittersweet chocolate morsels
On sheet of waxed paper, combine flour, cocoa powder, baking powder, cinnamon and salt; set aside.
Using electric mixer, beat olive oil with sugar until smooth and light. Add eggs and egg yolk, one at a time, beating until smooth. Add milk and vinegar; beat until smooth. With mixer on low speed, gradually add flour mixture, beating until just combined. Stir in chocolate morsels with large spoon; cover with plastic wrap. Refrigerate at least 4 hours.
Heat oven to 325 F. Grease two large baking sheets with 1/2 tablespoon olive oil each. On lightly floured surface, divide dough into quarters. Roll each piece of dough into log, about 1 1/2 inches in diameter. Place logs on baking sheets, leaving space in between. Bake about 30 minutes, or until golden and set. Transfer to rack; let cool 10 minutes.
Reduce oven temperature to 300 F. On cutting board using serrated knife, cut each log into 3/4-inch-wide slices diagonally. Place slices, cut-side down, on baking sheets. Bake 15-18 minutes, or until toasted. Transfer to racks; let cool.