Forum boosts diversity in STEM fields
MATHEW SHAW | 3/4/2019, 4:48 p.m.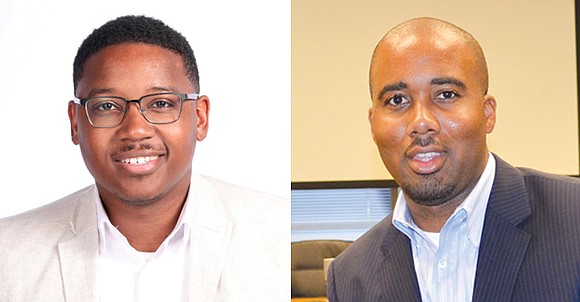 Morgan also coaches students on her own time on behalf of State Farm.
"I go to a career fair and I see a student and they don't understand that you have to look the part," she said. "You have to be professional. You have to show that you want the job, rather than just because, 'I'm Black. I'm going to get that opportunity.'"
Jessica Taylor of Toyota North America stressed the importance of "soft skills," such as having ethics and morality, and the ability to communicate.
"The hiring manager doesn't always know what these amazing equations are," Taylor said. "We just know to look for Java and Script. Being able to articulate those things is very important."
Taylor also shared the importance of being flexible in case one's desired position is not available.
"A lot of times we get students who say, 'I want to be a mechanical engineer, and that's it,'" she explained. "[I say], 'I have a manufacturing engineer [position]. Well, maybe if you take this role for a year, we can move you over.' When you're not flexible, you can miss opportunities and blessings because you're not seeing it for what it can be."
Morgan encouraged the audience to do personal projects outside of school.
"School can't teach you everything that you need to know," she said. "As an employer, I'm looking that you're self-motivated to teach yourself more, to learn different languages, to be better within yourself."
Mitchell told the audience that as long as they have a computer and cell phone, they are their own company.
"4K took us to the moon, and you're walking around with how much memory in your phone?" he offered. "You're really hot on Instagram, but what are you doing with it? You have power in your pocket."
The panel, "The Uncharted Path: Tech Entrepreneurship," hosted five entrepreneurs who shared their experiences starting businesses as minorities.
Donovan Bridgeforth, founder of The BLK App, which helps users find and patronize Black-owned businesses, said he has noticed changing outlooks toward business from his fellow millennials.
"What I've seen from the millennials and the people who are my friends, is that we don't want to work that 9 to 5 [job]," Bridgeforth shared. "We're trying to do this so we never have to get there. Kids coming out with bowtie companies and lemonade stands, I just see the entrepreneur getting younger and trying to get away from having to work for somebody else."
Eric Townsend, founder and CEO of Zeeta, a delivery company, said young people now have power over big companies.
"Big companies are now scared of kids," he expressed. "That's what's most exciting for me, any small thing that I do can scare these big companies. You either get bought out or beat them."
Tammy Bowser, founder of Snag My Wedding, a company that helps customers resell their wedding, encouraged the audience to pursue their ideas even if they have been done before.
"A lot of times we get caught up in, 'I'm not going to tell anyone my idea because they're going to steal it,'" Bowser said. "They can't steal your brain. They can't steal how you're going to do it. None of that can happen. Don't let that hold you back in not putting it out there."
When it comes to investors, Bowser insisted that entrepreneurs should stay open to their input.
"You have to be open, because obviously they saw something in what you already built," she said. "Being open, but not letting your vision change, I think is great."
Daniel Markland, founder of Versl, which helps disc jockeys with marketing, said investors think in black and white.
"A dollar in, I'm going to get $2 back," Markland said.
Maxie Taylor, founder of GoodieBoxx, which builds robotic convenience pantries, also believed investors' opinions should be valued.
"Over time, all money is good money," Taylor said. "You'll have a lot of people who will have opinions. Ultimately, if you have a good core of a concept, it's okay to hear somebody else's input, but it's a delicate balance on that."
Bridgeforth, however, disagrees that all money is good money.
"It's not just a numbers game for me," he said. "It has to all align with our brand and with our vision, so the money has to be good money. All money is not good money."