Sheriff Brown: Called to lead, serve
MATTHEW HIRST | 3/4/2019, 4:52 p.m.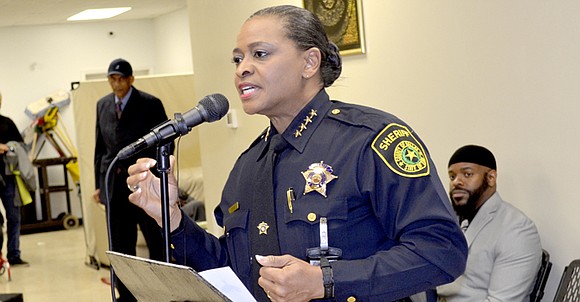 The Dallas Examiner
Sheriff Marian Brown, the first African American sheriff of Dallas County, stated that her entire life has been preparing her for this moment, whether she knew it yet or not.
Brown served as interim sheriff after Sheriff Lupe Valdez resigned to pursue political state office. During that time, she ran for sheriff and won during the general and joint election on Nov. 6, 2018.
She came into office amid the conviction of a White officer who shot an unarmed Black teenage boy, and the shooting of an unarmed Black man in his own apartment by a White female officer – widening the gap between the Black community and the local law enforcement. But Brown insisted she was up for the challenge.
"It was something that I was called to do. It was not my intent to grow up and be a police officer. My intent was to grow up and be a journalist – that's what I wanted to do. That's what I went to school for, but at some point I got sidetracked," said Brown. "As we say in law enforcement, it got in my blood and I decided that this was what I wanted to do. Then, even after I said I'd only do it for about a year, I decided that I wanted to do it even more because I realized it was an opportunity for me to reach people – not only the people in the community, but also the people with whom I work. It was an opportunity for me to live and, by example, say to those people that it's okay. It's all right. The police and the community have to work together."
Much of her career and political platform have been focused on promoting diversity and community outreach efforts in law enforcement departments throughout Dallas.
Improving life in the community has always been central to not only Brown's identity as a law enforcement officer but to her identity as an individual, as well. Having grown up as a Black girl in Duncanville, her passion for making a positive difference in the community would hit another level upon joining the Duncanville Police Department where she patrolled the very streets she grew up on, in turn laying the foundation for her rapid ascent to Dallas County sheriff.
"I don't know that there was a magic moment. I had a girlfriend and roommate whose brother worked for the Dallas Police Department and I asked them to go out and ride. I think that's kind of where I got the bug of it," Brown recalled. "Of course, when I was at UTA, you'd open the school paper and see ads for people to come and work for the Dallas Police Department. I remember thinking, 'Well, why would you go work for the police department if you're in school? Go and do what you're in school to do.' I just remember that I decided I would try it for about a year.
"I remember riding with my friend Anthony and Chief Floyd, and I remember going from call to call thinking, 'Oh my goodness, I think I like this.' The opportunity to reach people right where they are, in whatever their situation is. Maybe they're in crisis, maybe there's a family disturbance happening, but the opportunity to go in and say, 'Hey, what's going on? Why are we doing that?' Or, 'Hey, let's think about this.' Just to reason with people.