Newsrooms still lack diversity
Stacy M. Brown | 3/11/2019, 12:15 a.m.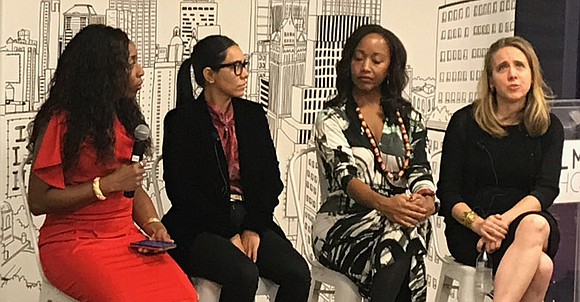 In an expanded section on tech, social media, gaming and engineering, Status 2019 also spotlighted the growing threat online to women in media and the perils of failing to protect free and safe speech.
"As part of their day-to-day work, women journalists often face a torrent of harassment, denigration and threats … and the point of this hostility is to silence women, most frequently women of color," said Soraya Chemaly, director of WMC's Speech Project.
"The onus continues to fall on women's shoulders as individuals. Media companies have to develop institutional responses to these threats if they are serious about building inclusive organizations."
Some of the findings in the report include:
• The American Society of News Editors' latest tally found that women comprised 41.7 percent and people of color 22.6 percent of the overall workforce in those responding newsrooms.
• Sports desks at 75 of the nation's newspapers and online news sites earned a "B+" for racial diversity, a "D+" for gender and racial diversity, combined, and a sixth consecutive "F" for lack of gender equity.
• Editors of the nation's 135 most widely distributed newspapers are overwhelmingly male and White.
• 69 percent of news wire bylines are snagged by men, 31 percent by women; 63 percent of TV prime-time news broadcasts feature male anchors and correspondents, 37 percent feature women; 60 percent of online news is written by men, 40 percent by women; 59 percent of print news is written by men, 41 percent by women, according to Women's Media Center.