Prosecutor declares Texas death row inmate innocent, paving way for state compensation
JOLIE McCULLOUGH | 3/11/2019, 12:17 a.m.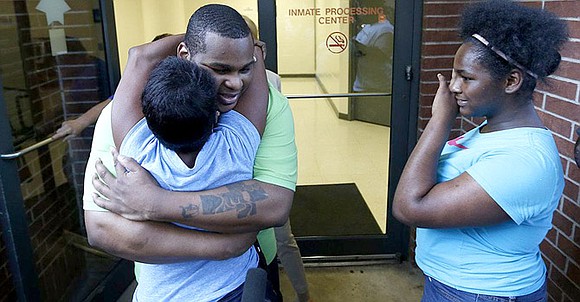 "[Brown's] really happy," Manne told The Texas Tribune on March 1. "It's been a long, long road for him, and it feels really good that the district attorney is now on his side."
But not everyone believes in Brown's innocence. Joe Gamaldi, the president of the Houston police officer's union, told the Tribune in January that Brown couldn't touch the high standard of actual innocence "with a 10-foot pole" and that he remains the main suspect. Saying he knew what was in Raley's pending report, Gamaldi said Ogg went through Raley to "give herself cover from the political fallout."
At the conference, Ogg acknowledged the discontent from the police union and said before the findings were released that she knew there were those who would disagree with them.
"That happens every time a district attorney anywhere makes a decision of this magnitude about a person's life," she said.
Raley said at the conference that his team spent more than 1,000 hours investigating and compiling his nearly 200-page report on Brown's case. His report also recommended further investigation of Dan Rizzo, the trial prosecutor in Brown's case who failed to turn over the phone records that led to his ultimate release from prison.
The failure to turn over the phone records was said to be "inadvertent," but Ogg asked the state bar to investigate Rizzo last year after unearthing an email that showed he was told about the corroborating phone records before Brown's trial.
The state bar ultimately found no cause to issue disciplinary sanctions against the attorney, the Houston Chronicle reported.
"It is impossible to examine the conviction of Alfred Dewayne Brown without confronting prosecutorial misconduct," Raley said in his report.
This article was first published at https://www.texastribune.org/2019/03/01/alfred-dewayne-brown-innocent-death-row by The Texas Tribune, a nonprofit, nonpartisan media organization that informs Texans – and engages with them – about public policy, politics, government and statewide issues.