Monday Night Politics – Meet the Candidates: First forum features candidates for mayor
MATTHEW HIRST | 3/18/2019, 12:35 p.m.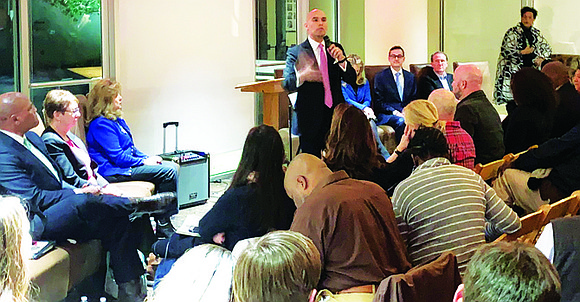 The Dallas Examiner
Monday Night Politics – Meet the Candidates, presented by The Dallas Examiner, hosted its first of a series of forums at the African American Museum on March 4 from 6 p.m. to 8 p.m. The political forum featured seven of the nine candidates running for mayor of Dallas in the May 4 general election. Those not in attendance were state Rep. Eric Johnson, state Rep. Jason Villalba and Stephen Smith.
To begin, each candidate was given two minutes for opening statements, which was then followed by an open Q&A session where audience members could ask questions and candidates had one minute to answer.
Opening statements began alphabetically by last name, starting with Mike Ablon, a Dallas real estate developer and founding partner of a local commercial real estate development, investment and management company called PegasusAblon.
"Well I get to welcome everybody, so my two minutes is going. I was having lunch the other day at Elaine's. … While I was there, I get asked a question and the question was really straightforward. It was what do I think about the Fair Park management contract? ... I think we flat-out asked the wrong question. Did we listen to the neighborhood? Did we listen? Did we talk about it? We went and put a Band-Aid on some bleeding. You cannot do that.
"We have a great Arts District, but what is the future of Fair Park? What is the future of the area? It is a gem of our city. It was the cultural center of our city. Cities are a sequence of neighborhoods and it ties the bind. Why am I talking about mayor? Why do I want to be a servant leader for the city? It's because we have to focus on the neighborhoods and we have to focus on the ties that bind, and then we need to make decisions. We need to execute, and we need to build. We need to build communities; we need to build infrastructure; we need to build jobs; and at the end of the day, we need to build neighborhoods. That's what makes a great city. That's what I'm going to be talking about. Thank you."
Next to the podium was Albert Black, former chairman of the Dallas Housing Authority, president and CEO of On Target Supplies and Logistics, former chairman of the Baylor Health Care System, Dallas Regional Chamber's first African American chairman, and Oak Cliff native.
"Thank you for everybody coming out tonight. We have a lot of good to talk about tonight, and I'm hoping that you'll ask the kind of question that will bring the very best out of the candidates that are spending their time with you tonight. This program is about you. You get a chance to hear a little bit about us. About me … I was born just southeast of here in Frazier Courts housing projects. We came here to the Fair Park once, and we got beyond Negro Day at the fair. We came just about anytime we wanted to. We stayed here; we had fun; we walked around; and we went home safe because the neighborhoods were safe then. Much different today. Those same neighborhoods have been neglected. Those same neighborhoods are not kept in a manner that they should be.