Monday Night Politics – Meet the Candidates: First forum features candidates for mayor
MATTHEW HIRST | 3/18/2019, 12:35 p.m.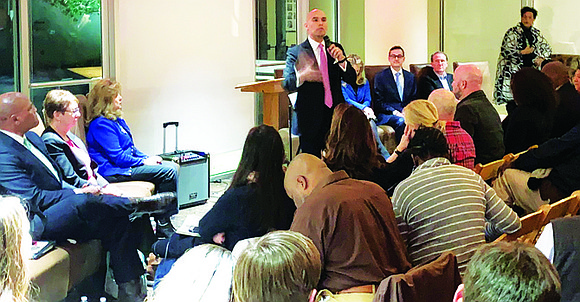 "We're going to talk about neighborhoods and some of the neighborhood redevelopment, neighborhood support, the neighborhood augmentation program that we have policies… that we will recommend to our city. We're going to talk about economic development in a broader sense and that is how this city can be so generous on the large-scale to major corporations, but citizens down in the communities are not feeling like that economic development is reaching them. We'll also talk about the 2018 bond program, what it has allocated for Fair Park, and what we should be thinking about, coordinating our efforts in order to optimize the opportunity for citizens like you and citizens all over our city."
Following Black was Scott Griggs, vice-chairman of the Government Performance and Financial Management Committee, who also calls Oak Cliff home. Griggs also serves on the Dallas City Council. He was first elected to District 3 in 2011 before being elected to represent District 1 in 2013, which he continues to serve.
"I'm a lifelong Dallasite who served the last eight years on the Dallas City Council. In doing that, I have worked with people from all over the city and know that together, there's not a problem we can't solve, an opportunity we can't seize, or a challenge we can't beat. I have more faith than ever in you, the people of the city of Dallas, and I recognize that we need a new kind of mayor. For too long, mayors of the city of Dallas have been focused on Dallas, the postcard. A city with pretty bridges, a city with a beautiful convention center hotel, but we need something more. We need a man who is going to focus on Dallas, a place where people live. And we can do that by focusing on our shared values, transparency and accountability in government, strong and safe neighborhoods, and focusing on what matters. The basics.
"Let's take care of our streets, our parks and our recreation centers. Let's also take care of our first responders and make sure that employees throughout the city of Dallas have high wages. If we do these things, we can build the city we want to see in the future. A city when you wake up in the morning, you can drive to work on beautiful smooth streets, or you can take DART to work and not have to wait outside. A city where economic development isn't just big projects coming – it's small projects that are rebuilding your streets in your neighborhood, bringing life to businesses, and making the city great. Having the money spent in the neighborhood, that's the kind of city that we want to build: A city that's made for people."
Next came Alyson Kennedy, an activist from Indianapolis who has come to find herself representing the Socialist Workers Party movement in North Texas. Some of her accomplishments so far have been securing the Socialist Workers Party nominee for the 2016 United States presidential election, where she received some 12,467 votes, alongside running as vice president in the 2008 United States presidential election.