Sankofa Garden Homes: Grandparents, grandchildren and gardens
CLARENCE GLOVER | 3/18/2019, 12:47 p.m.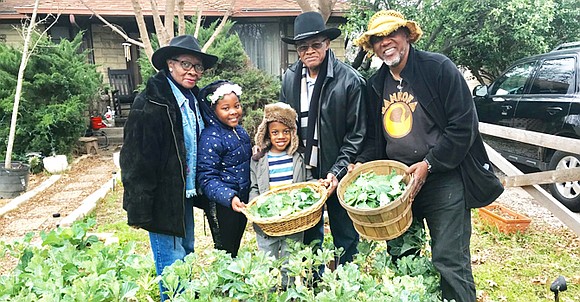 Sankofa Gardening Homes
"Live at home." – George Washington Carver
"It takes a village to raise a child." – African Proverb
One of the many fond memories I have of growing up is living with my maternal great-grandparents and grandparents. My parents were teachers and my oldest sister and I spent much of the first five years of our lives growing up on our family farm while they were beginning their educational careers.
These were the years that shaped my understanding of faith, life, family and nature. To this day these are the four dimensions that impact me as an African American man.
The extended family is one of the cultural traits of African and African American people. The presence of great-grandparents and grandparents has for centuries been the foundation for raising our families. With the weaving of many families, we have woven the fabric that makes up the village that is necessary to raise a child.
However, as we have adjusted to modernity, we have weakened the thread that has held our families and communities together. As with other cultures today, we must stop and assess the quality of our lives.
What was good about "the good old days"? What did we learn from our elders? Are there some basic values, morals and skills that are timeless? If so, how do we pass them on from one generation to another?
Having grown up with my maternal great-grandparents and grandparents on the farm or in the garden in particular, there were many things they taught me long before going to school. You might say I was introduced to science, technology, engineering and math – known as STEM – and project-based learning. I, like many others of my generation, treasure the richness of having grown up around great-grandparents and grandparents in the garden where so much was taught and learned.
I was recently elated when two of my good friends wanted to bring their grandchildren to my Sankofa Garden Home. All of us had grown up on our family land and valued the experiences that still inform our lives today.
Al and Lela Herron are both natives of Mississippi. He grew up in Prentiss, Mississippi, and she grew up Silver Creek, Mississippi, approximately 8 to 15 miles apart, depending on who you asked. Al remembers walking to Lela's house while they were courting, and he confirmed that from door to door it was 15 miles.
Both of their parents owned their own land at a time when it was not common for African Americans to do so. They too treasured the memories of having been raised around their grandparents as their parents worked to support their families. With their grandparents, they would spend many days in their gardens raising corn, beans, peas, okra and squash for the family table.
When I asked Al, "Why do you want to bring your grandchildren to my Sankofa Garden Home?" he stated, "I wanted them see what self-determination looks like. I want them to see what we ought to be doing as a people, raising our own food like I saw my grandparents and parents do."