Sankofa Garden Homes: Grandparents, grandchildren and gardens
CLARENCE GLOVER | 3/18/2019, 12:47 p.m.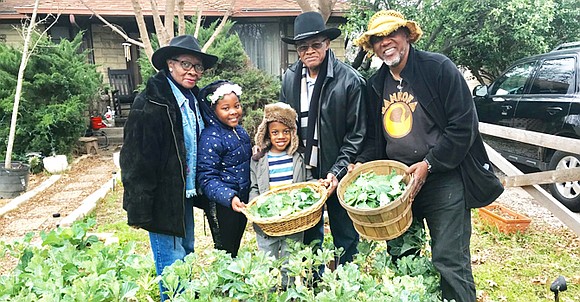 When Lela was asked, she stated, "I cook collard greens all the time. I wanted them to see where collard greens really come from – that they don't come from the store. I wanted them to see a garden. I wanted them to see collard greens in the ground."
When they arrived at my home with their grandchildren, Brooklyn Bruff in the 4th grade and Braxton in kindergarten at Harry Stone Elementary School, we were all surprised when they enthusiastically jumped out of the car and ran to the garden of collard greens in my front yard. But after talking further with Al, I found out they get excited when they take them to Mississippi and visit their family land where they can run free. I assume the site of the garden invoked a free spirit in them that they had not experienced in the city.
When I asked Brooklyn what she thought of my collard greens garden, she replied, "I think it's pretty. It has lots of plants, like something in a magazine, but better, because I am here." When I asked Braxton what he thought, he replied, "It's awesome!"
While I had a half a bushel basket ready, Lela brought a basket as well. As we began to pick collard greens, you could see the enthusiasm in Brooklyn's and Braxton's faces. But their enthusiasm was matched by Al and Lela's excitement to help them pick the collard greens properly. You could feel the sense of generations of knowledge being transferred as grandparents and grandchildren engaged in a ritual of harvesting food that they would soon prepare and enjoy in their home.
One may think grandparents and grandchildren picking collard greens in an urban garden is a simple thing. Nimali Fernando and Melanie Potock in a PBS Expert Tips & Advice article on Gardening with Kids: How it Affects Your Child's Brain, Body and Soul gives insight to the profound impact gardening has on children. In summary, it states:
How gardening can affect the brain:
There is a myriad of scientific concepts you can discuss with your kids when planting and tending to a garden. One study showed that children who participated in gardening projects scored higher in science achievement than those who did not.
How gardening can affect the body:
Children love to get their hands and feet in the dirt, which can run counter to the modern parenting style of compulsively keeping hands and surfaces cleaned and sanitized. Getting dirty while gardening may actually strengthen a child's immunity and overall health.
How gardening can affect the soul:
In this electronic age, children need time for meaningful family connection. Studies show that when children have contact with soil during activities like digging and planting, they have improved moods, better learning experiences and decreased anxiety.
You can be certain that Al, Lela, Brooklyn and Braxton's time picking collard greens has already paid off. The Herrons are planning to also become a Sankofa Garden Home where they will grow their own food. These grandparents and grandchildren are on the way to a healthier and happier lifestyle. Won't you join them?
Until next month, happy Sankofa Home Gardening!
Sankofa Gardening Homes is provided by Clarence Glover, known as Professor Freedom of Sankofa Education Services, for the purpose of "taking the chains off our brains, so our minds can work." He can be reached at clarencegloverjr@aol.com.