Monday Night Politics – Meet the Candidates: Forum features Dallas City Council candidates for Districts 5, 8
SHAIA MOORE | 3/25/2019, 10:56 a.m.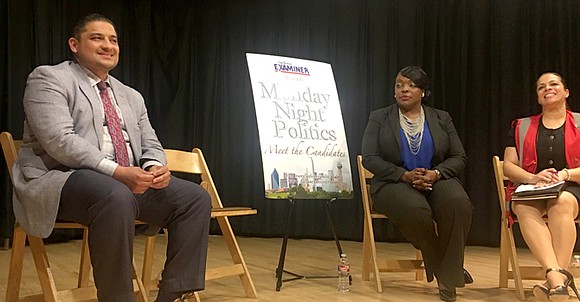 The Dallas Examiner
Monday Night Politics – Meet the Candidates, presented by The Dallas Examiner, hosted its second forum at the African American Museum March 11 from 6 p.m. to 8 p.m. The political forum featured candidates running for Dallas City Council in Districts 5 and 8 in the May 4 general election.
In the first hour of the forum, the candidates for District 8 took to the podium to share their vision for the southernmost district of the city.
Opening statements began with Councilman Tennell Atkins, the incumbent. He represented the district from 2007 to 2015, and began his fifth term in 2017. Atkins also serves as chair of the Economic Development and Housing Committee.
"First, good evening everyone. The reason why I am here today is to finish the things that I did not finish when I was there in 2007 to 2015, such as the Red Bird Mall. Red Bird Mall was going broke, and in the last nine months when I got there, we came up with $22 million with the help of Mayor Mike Rawlings and also with the community coming down to city hall – 300 people showing their support for Red Bird Mall.
"I also got on with Singing Hills Rec Center before I left in 2015. The rec center was built without a gymnasium, without a single program, single project, so now we got that going. Also the DART rail line came back within four years ahead of schedule. ... We have all those amenities that we never had.… There is great opportunity to serve you, to come back and continue my work. If you want to look at my work, we do have districts online, you can go to it; it tells you exactly what I've done in the last eight years and going forward."
Following Atkins was Erik Wilson. First elected in 2015, Wilson narrowly lost a re-election campaign in the runoff election against Atkins in 2017. Wilson served as deputy mayor pro tem during his time on the council.
"Good evening. Before I begin, I want to clear up a couple of parlor tricks that my opponent is putting out and perpetuating. First of all, in no way, it is not true that I would take a position to where I would run for one year and allow him to come back. Two, I would never, and am not supported by any mayoral candidate out there. As a matter of fact, my position on that is anybody but [Scott] Griggs.
"Now let me start with the elephant in the room. Yes, I did vote for a charter school that was not in my district. And I do agree that there are too many charter schools in Southern Dallas. But if I, like you, agree with that and am upset about the number of charter schools, then you should be highly upset at the five charter schools that my opponent approved in his first eight years in office.
"In addition to that, my opponent enjoys receiving the money from porn store owners. … And finally, to say that my opponent, according to the Dallas Morning News article, admits that he was a tool for the establishment, and was readily used and readily served at their will, and that he did not listen to the community. He followed the directions of the business establishment and not the community."