Monday Night Politics – Meet the Candidates: Forum features Dallas City Council candidates for Districts 5, 8
SHAIA MOORE | 3/25/2019, 10:56 a.m.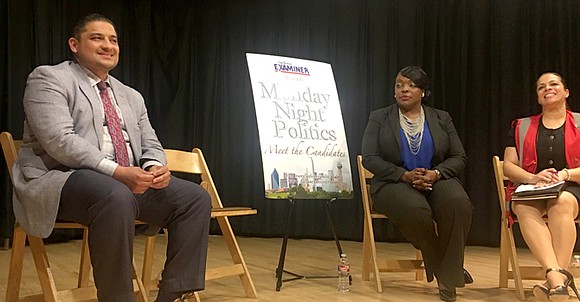 The forum was then opened up for questions from constituents. The need for bathrooms at DART stations, the lack of proper sewage infrastructure, the cleanup of Shingle Mountain, the proliferation of charter schools, the prevalence of "trash hotels," and the progress of the Wheatland Road development project was addressed.
Question: How did the new Wheatland Road develop-ment come about?
Wilson: That development did come about in the bond package of 2006. There was $5 million dollars for the new development of the Wheatland Road project. But that had been held up since 2006. When I was in office in 2015, I authorized the development for that to continue, for that to start, for there to be services – water and sewer to be integrated in the Wheatland Road, as well as in the bond package and set up for the future bond package program for there to be water services for the entire University Boulevard. It is a fact that my opponent did hold that up because he did not want the African American landowners to sell their property at a high price. He wanted it to be sold at a lower price for either White or Asian developers to come in and buy the property from them. He wanted to make sure that property stayed at a lower value, as opposed to allowing development, which hurts not only District 8, but the city, for opportunity for economic growth in the area.
Atkins: In 2006, there was a bond package with $5 million for infrastructure. Also in 2006, there was also $5.2 million for economic opportunity for Wheatland Road. Wheatland Road should not accept the $5.2 million that's supposed to be for economic development opportunities for someone to grow business. The land owners there, their zone is agriculture and also housing, which is lower tax rate. If you increase that, you increase the property value. And then we'd be put out, overpriced. Wheatland Road right now is not going to be completed until 2023. Now we got $15 million on Wheatland Road, can't even flush the toilet because the sewage goes north and south. Therefore, I'm in the process right now of trying my best to come up with $5 million in order to put infrastructure throughout UNT of Dallas.
Question: If elected or re-elected, what programs do you as a candidate have that will move the progress of the people that live in your district forward?
Wilson: Part of what I was able to accomplish was a joint partnership between Paul Quinn College and UNTD that deals with social or mental issues, in terms of collaborations for the area. This helps in police calls and in terms of distressed individuals, to be able to help with that. Programs that help people individually? Much like I did for AT&T when they wanted to develop downtown, I required that they have minority contractors – not for the dirt, but for the preconstruction, for the engineering, for the architecture, for the accounting – those are the types of programs that I can make sure that are done. As well as continue to work with our workforce development partners and to make sure that we have programs that are a continuation from the high schools to the colleges – our partnerships not only with Cedar Valley but also with UNTD and Paul Quinn College.