State office building reports constant rats and other pest infestation
CATHERINE MARFIN | 5/5/2019, noon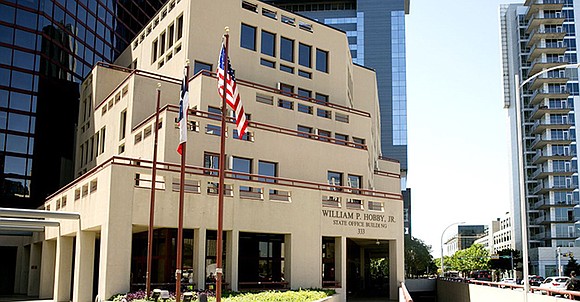 The Texas Tribune
On Jan. 16, an employee at the Texas Department of Insurance noticed an unwelcome pest in her fifth-floor office in one of the towers of downtown Austin's William P. Hobby Jr. State Office Building.
"Rat was in the ceiling and just poked his head out to look at an employee," her maintenance work order described the encounter.
It's just one of hundreds of work orders submitted to the Texas Facilities Commission, which functions as the property manager for many state buildings, by employees working in the Hobby Building between September 2010 and March 2019. The requested services were for rats, bugs and other pests, according to public records obtained by The Texas Tribune.
In one work order, ants were dropping from the ceiling onto an employee's hands while she worked at her computer. In another, an employee put on a coat at the end of the day, and a live rat jumped out of the pocket. Other work orders described cockroaches in various locations. Some employees reported being bitten by bugs while in the office. And employees often reported hearing rats moving around in the ceiling, sometimes shaking the ceiling tiles.
The three towers of the 35-year-old Hobby Building hold smaller state agencies that include the Texas Medical Board, the Texas Department of Insurance, the Texas State Board of Pharmacy and the Texas Board of Nursing, among others. This year, the Legislature is considering selling the building.
For the employees who work there, rat sightings are commonplace. Since September 2010, employees have reported and requested services to deal with rats close to every month of every year, records show. Employees have requested services for roaches, ants and other bugs at the same rate.
"The first thing I was told [when I was hired] was, 'Be aware, there's rats. Your food isn't safe in the file cabinets, and be sure to keep your food in metal containers,'" said one state employee, who started working in the building in 2014.
In August, she said, she put in a work order the morning after noticing a half-eaten sausage – which hadn't come from anyone in the office – under a desk. A T.F.C. employee set a trap in the ceiling, which was left there during the weekend.
"The trap caught the rat over the weekend, but it bled out," she said. "[When we came back,] blood was running down the walls and onto the clock on the wall."
She said run-ins with pests happen almost daily for employees in the building. In 2016, her office had a bedbug problem. When the commission renovated the elevators and HVAC system, it disturbed the rats, leading to more frequent sightings of rat droppings and causing nesting material to fall from the ceiling onto computers and desks. And she said pulling back shelves or cubicles in the office often means finding hidden rat runways covered in droppings and hair.
"It's gross, it's a health hazard and it's dangerous, she said."
Bringing in outside help