Gunshot detection could add layer of security to body cameras
MIKE McGEE | 5/7/2019, 1:26 p.m.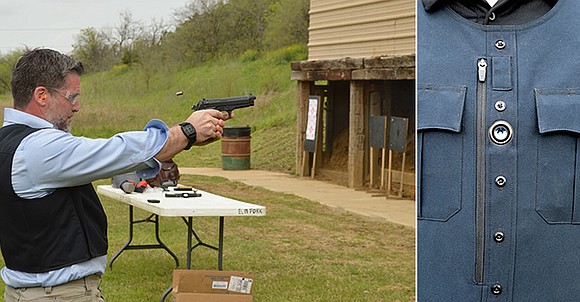 The Dallas Examiner
At a time when the interactions between citizens of color and law enforcement officers are being assessed, debated and brainstormed at a near-constant pace, a new generation of digital recording by the BodyWorn company may add clarity to the scrutiny and offer another layer of safety to the streets.
Cameras worn on officer's bodies that employ Artificial Intelligence and mathematical processing were demonstrated at the Elm Fork Shooting Sports range March 28. Along with the body cameras, a Smart Holster sensor activation system – which can tell when an officer's gun has been removed from the holster – and Advanced License Plate Recognition in-car video capability for tracking abducted children and other suspects were shown off.
The technology makes information taken from police patrols more immediate and usable to officers near a crime scene, and more readily available for investigators while keeping it "quarantined" from the chain of command on a cloud-based system so that footage will not be lost.
Chris Lindenau, chief revenue officer of the company, remarked that the technology was desperately needed in law enforcement.
"Up until now, the communities have invested in body cameras for their law enforcement officers, and the officers have obviously taken the time to train, implement and use this technology, but one thing stands out," he explained.
"It's abundantly clear across the country, and we've seen evidence of it repeated over and over, and that is, in the circumstances that require body cameras to be running, those are the same circumstances that it is most difficult for officers to actually activate those body cameras."
In the past, when video or audio from a body camera during a confrontation was not available, that omission was often greeted by suspicion by members of the public – even if there was a technical issue or an officer, focused only on policing, forgot to switch on the recorder. This also meant that evidence the video could provide, or even a learning opportunity captured for future officers, was unavailable.
With this new equipment, a camera in what amounts to a cellular device can slip into a shirt or body armor while requiring no hands-on interaction from an officer.
"What we've done is we've automated the activation, and then we've tied that into a map-based situational awareness system," Lindenau explained. BodyWorn built sensing capabilities within the body camera to listen for the unique sounds and frequencies associated with a variety of guns used in street crimes, in addition to the officer's own guns.
"And all of these things then initiate the camera upon hearing the discharge from a firearm to turn on. That same camera then sends up a beacon to dispatch, to other officers in a predefined radius to that officer, about where that officer is, and that officer is involved in a fire fight – allowing not only a capture of video but also a rapid response to that officer, and preserve lives."
It was reiterated throughout the event that protecting lives was the ultimate goal of the tech. Statistics show that some sort of mitigation and quick response could in fact make a positive difference. As uncovered by The Washington Post, police shot and killed 992 people in the U.S. in 2018. Too, per USA Today, 144 law enforcement officers across the nation died in the line of duty in 2018, 129 died in 2017, and 159 died in 2016.