Professor Freedom inducted during hall of fame luncheon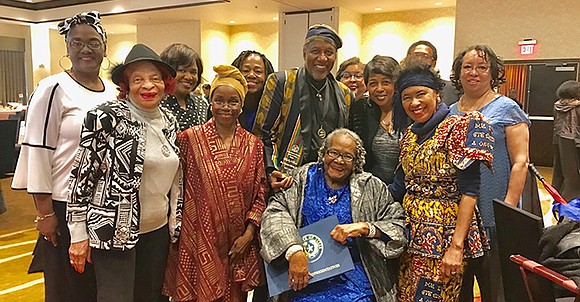 The Dallas Examiner
Clarence Glover Jr. may best be known to The Dallas Examiner readers through his monthly Sankofa Garden Homes columns. In the articles, he teaches by doing, demonstrating methods of home vegetable gardening that include edible or other functional plants that not only have direct links to Southern Black culture but metaphorical roots in African lands as well. Along with his planting advice, he enlightens readers on slave traditions, as well as African history and symbols.
As well as being a columnist, Glover has also been a teacher most of his adult life, and recently received praise for his decades of diligence in education, especially on topics related to African American life.
For his dedication to the community, he was recently inducted into the African American Education Archives and History Program during The Bobbie L. Lang Hall of Fame Luncheon in Duncanville, April 13.
Known also as Professor Freedom, he estimated that he has instructed thousands of students, teachers and citizens about African American culture, multicultural education, the life of Dr. Martin Luther King Jr. and civil rights. He is also an ordained Christian Methodist Episcopal minister.
His drive to stimulate the minds of others stems from being raised by a family of educators, he said, including by his farming grandparents, who lacked a formal college education, but were educators nonetheless "in terms of their knowledge, their understanding of nature, had the rural appreciation of land, and family and culture. My mother and family were formally educated by attending Grambling State University and they were both educators – teachers, elementary teachers."
An instructor who prefers to describe himself as an "educator" – as opposed to using the word "teacher" – Glover explained the Latin origin of the word as someone who finds the best in an individual and nurtures that, employing the metaphor of a farmer that plants a seed in rich, fertile soil. An apt occupation for a man whose family lived off land they themselves cultivated.
"I grew up as a child on a farm with my great-grandmother, great-grandfather, my grandmother, my grandfather, my sister and I, so the primary years of our lives, until we went to elementary school. We lived on the farm with my great-grandparents and my grandparents while my mother and father both taught school in different parts of the parish in Louisiana," he remarked.
"So therein lies, you know, having grown up on the farm and then being with my mother and father and my grandparents who educated us to the land, and to the family, to the culture, my mother and father being teachers … it's in my blood."
A native of Shreveport, Louisiana, Glover earned a bachelor's degree in history from Grambling, then obtained a Master of Theology and completed further studies at Harvard. He taught African American studies at SMU, as well as served as director for Multicultural Student Affairs and adjunct professor of African American Studies.
Further, he was a special assistant to the general superintendent and director of multicultural education with Dallas ISD. He is also president of Sankofa Education Services, which specializes in cultural strategies for educating Black students, as well as multicultural studies.